Although Pontiac was known as a performance leader in the 1950s, it was the Pontiac Firebird that helped solidify that reputation. Conversion from stodgy sedans to goin' machines began in autumn 1954, when a brand-new high-compression V-8 elbowed aside the old-fashioned straight-eight engines.
Pontiac Firebird Image Gallery
Among other features, the new powerplant had stud-mounted rocker arms, smaller combustion chambers, and -- foretelling the near future -- ample room for growth.
After Semon "Bunkie" Knudsen became Pontiac's general manager in 1956, he borrowed a team from Oldsmobile to shape the V-8 for performance. For 1957, the engine was stroked to 347-cid. That evolved into 370-cid, breathing through optional fuel injection or a Tri-Power (triple carburetion) setup.
Pontiac went "Wide-Track" for 1959, as its 389-cid Tri-Power V-8 reached the 345 horsepower mark; then, 421-cid and 405 horsepower for 1961. Resistance to top-management pleas for restraint led to Pontiac's reputation as GM's "outlaw division."
That performance "rep" was etched permanently by 1964 with the debut of the GTO -- the vehicle that helped to usher in the muscle car era. With its 389-cid V-8 and optional Tri-Power carburetion, the "Goat" lured thousands of youthful drivers into Pontiac showrooms. Even those corporate folks who weren't enamored of automotive muscle couldn't argue against sales that neared 100,000 in 1966 alone.
What next? With a two-seater down the drain, a sporty four-seat model seemed in order -- even if its basics had to be borrowed from GM's bread-and-butter division.
Chevrolet was well underway with its F-body "Panther" project (renamed Camaro by production time), based on the Chevy II chassis with 108-inch wheelbase. Camaro was similarly unibodied, employing a separate front subframe. One difference: its coil springs were mounted on lower control arms instead of uppers.
Chevrolet's objective was to replace the rear-engined Corvair Monza as a sporty compact -- but with a conventional front-engine/rear-drive layout. High-performance mavens at both Chevrolet and Pontiac could see one big bonus: the chassis could carry a mild-mannered six-cylinder engine, or hold GM's biggest V-8s.
Because Pontiac engineers and stylists didn't get a close look at the Camaro until well into its development stage, the production decision came too late to make the car strictly Pontiac.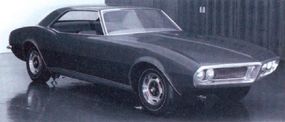 Firebird engineer Bill Collins later admitted that the '67 was "just kind of inherited from Chevrolet [with] all the Chevrolet sheetmetal and all the same exterior hardware except for the grille and taillamps."
Had the Ford Mustang never been born, no Firebird would have joined the Pontiac fleet -- and a Trans Am badge might never have adorned a Pontiac. And had Chevrolet not created a sport-focused Camaro to target the ripening "youth market," no equivalent Pontiac could have been produced.
Though sharing the Camaro's 108-inch-wheelbase chassis and bodyshell, the first Firebirds displayed a surprising number of distinctive features. Up front sat a "classic" Pontiac split grille. Out back, fluted taillamps blended into the rear panel. Mild sculpturing in rear quarter panels veered away from Camaro's more straightforward shaping.
Jack Humbert served as chief designer, assisted by Ron Hill. Despite the short development period, the end result was definitely Pontiac.
Get details on the design process for the Pontiac Firebird on the next page
To learn more about muscle cars, see:
Pontiac Firebird Reviews by Consumer Guide