The 1961 Pontiac Ventura 389 was a natural result of evolution in muscle cars. Pontiac enlarged its 370-cid V-8 in 1959 to create the Ventura 389, its signature engine for much of the '60s. A 345-bhp tri-power option was offered from the start and over the next few years, dealer-installed "Super Duty" factory mods pushed it to 363 bhp.

©2007 Publications International , Ltd.
The 1969 Pontiac Ventura 389 came with
the manufacturer's trademark split-grille. See more muscle car pictures.

Introduction of the 389 coincided with the emergence of Ace Wilson's Royal Pontiac dealership in Royal Oak, Michigan, as the quasi-official street-performance arm of the factory. It specialized in the hottest factory parts and in super-tuning Ponchos. A four-speed 363-bhp Catalina prepped by Royal and driven by Pontiac marketing executive Jim Wangers was NHRA Super/Stock champ with an ET of 14.1 at 100 mph.

©2007 Publications International, Ltd.
The Ventura 389's air cleaner hid three two-barrel carbs.

Pontiac downsized its midrange Catalina and Ventura for '61. Wheel-base dropped from 122 inches to 119, and bodies were shortened by four inches. Most customers winced; rodders cheered. The cars were 200 pounds lighter, and the 389 was strong as ever.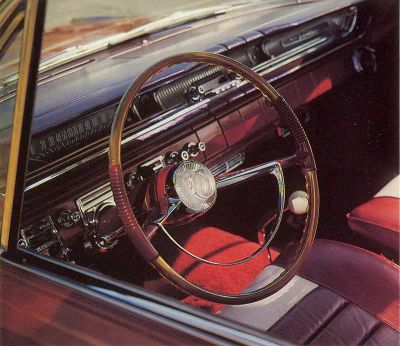 ©2007 Publications International, Ltd.
Here's a look at the interior of the 1961 Pontiac Ventura 389.

Pontiac now offered a wider array of serious performance equipment than any manufacturer, including aluminum front bumpers, radiators, and body parts. Late in the model year, Super Duty 389 hardware was applied to about a dozen 421-cid V-8s intended for pro drag racing.

Other race-ready big-blocks were available in small numbers at the time. But of cars within reach, few blended speed and style like a 389 Catalina or Ventura. Two-barrel versions had as much as 267 bhp, four-barrels had up to 333. The top box-stock choice was the 348-bhp tri-power.

©2007 Publications International, Ltd.
Few muscle cars blended speed and style like the 1961 Pontiac Ventura 389.

Hardtops had GM's graceful "bubble-top" shape, Venturas came with "Jeweltone Morrokide" upholstery, and buyers could order a host of sporting accessories. A Borg-Warner four-speed manual was now a $306 production item, having previously been a special-order factory option. And Pontiac now authorized dealers to install genuine Hurst shifters for the three-speed manual.
The 1961 Pontiac Ventura 389




Specifications




Wheelbase, inches:

119.0


Weight, lbs:

3,685


Number built:

NA


Base price:

$3,200



Standard Engine




Type:

ohv V-8


Displacement, cid:

389


Fuel system:

3 x 2 bbl.


Compression ratio:

10.75:1


Horsepower @ rpm:

348 @ 4800


Torque @ rpm:

430 @ 3200



Representative Performance




0-60 mph, sec:

8.2
1/4

mile, sec @ mph:

15.5 @ 9
Return to Classic Muscle Cars Library.
For more cool information on muscle cars, see:
Pontiac ignited the classic muscle car era with a stroke of marketing genius. See profiles, photos, and specifications of Pontiac muscle cars.

Muscle cars came in many shapes and sizes. Here are features on more than 100

muscle cars, including photos and specifications for each model.
Muscle cars created their own culture. To learn about it, read ­How Muscle Cars Work.
These muscle car profiles include photos and specifications for each model:
For related car information, go to these articles:

The engine is what gives a muscle car its flamboyant personality. To learn everything you need to know about car engines, see How Car Engines Work.
Muscle cars wouldn't have much muscle without horsepower -- but what exactly is horsepower? How Horsepower Works answers that question.

NASCAR race cars embody the muscle car philosophy of power. Read ­How NASCAR Race Cars Work to find out what makes these charged-up racers go.
Are you thinking of buying a 2007 muscle car, or any other car? See Consumer Guide Automotive's New-Car Reviews, Prices, and Information.
­
Advertisement