Dodge put a new name on the street in 1965, the Coronet 426 Street Wedge. It was a new intermediate, built on a 117-inch wheelbase and available in hardtop, sedan, convertible and wagon body styles. Now that Detroit had shifted its performance emphasis to the mid-size range, Coronet would be the focus of Dodge's hottest street and strip efforts.
The finest of them all, of course, was the mighty 426 Hemi. Dodge offered this engine in the Coronet for '65, but only in highly strung 12.5:1 compression race tune. It wasn't very streetable, it was very expensive, and few found their way off the drag strip.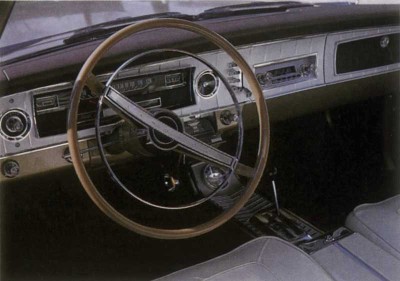 The 1965 Dodge Coronet 500 had center console standard,
but a floor-mounted automatic shifter was optional.
But there was another 426 that took to the street with impact and aplomb in the '65 Coronet. In its mildest incarnation, it used a single four-barrel carburetor, hydraulic lifters, and a 10.3:1 compression ratio to churn out 365 horsepower at 4800 rpm and 470 pounds/feet of torque at 3200. Known popularly as the 426 Street Wedge, this was the "optional powerplant for true enthusiasts," Dodge's brochure said. "It leaves nothing to the imagination."
The 426 Street Wedge performance package added $513.60 to the base $2674 base price of a Coronet 500 hardtop. Gone were the flamboyant ram's-horn exhaust headers of 413 Max Wedge fame, but while the 426 Street Wedge didn't look as wild, it was just as potent. Motor Trend saw 0-60 mph in 7.7 seconds and a 15.7-second quarter at 89 mph in a '65 Street Wedge Coronet.
For those who could imagine more, Dodge had a 426 Max Wedge in an even higher state of tune, which the automaker called the Ramcharger V-8. This one was rated at 425 horsepower at 5600 rpm and 480 pounds/feet of torque at 4400. It had a 12.5:1 compression ratio, solid lifters, and factory exhaust headers. It even looked intimidating with its Race Hemi Orange paint, Ramcharger graphics, and two Carter AFB four-barrel carburetors mounted in tandem.
This was basically the same mill as the 425-horsepower 426 Max Wedge that had been known as the Stage III engine in MoPar's 1964 ultra-performance lineup. The so-called 426 Stage II, which was rated at 415 horsepower on an 11.0:1 compression, was not offered for '65.
Behind the 426s stood a choice of Chrysler four-speed manual or TorqueFlite transmission. The standard rear-axle ratio was 3.23:1, but optional choices ranged from 2.93:1 to 4.89:1 and included the Sure-Grip diffential.
Only a handful of Coronets received the 426 Street Wedge and fewer still the Ramcharger engine. These 426s eventually would grow into the 440-cubic-inch V-8s that vied for top dog on the street and strip. But '65 was their last hurrah. Chrysler retired them after this year, and a whole generation of muscle fans would begin to forget that "426" once meant something other than Hemi.
Return to Classic Muscle Cars Library.
For more information on muscle cars, check out:

1965 Dodge Coronet 426 Street Wedge Specifications
The 1965 Dodge Coronet 426 Street Wedge was Dodge's hottest mid-size street effort. It was available in hardtop, sedan, convertible, and wagon body styles. Get specifications for the 1965 Dodge Coronet 426 Street Wedge here:
The Dodge Coronet Street Wedge was most frequently found in 365-bhp tune,
though less-tractable 425-bhp variant was offered.
| | |
| --- | --- |
| Engine Type | V-8/RB-Wedge |
| Displacement (cid) | 426 |
| Horsepower @ rpm: | 365 @ 4,800 |
| Torque (pounds/feet) @ rpm | 470 @ 3,200 |
| Compression Ratio | 10.3:1 |
| Bore (inches) | 4.25 |
| Stroke (inches) | 3.75 |
| Valve Lifters | Hydraulic |
| Availability | 1965 Coronet |
Times*:

| | |
| --- | --- |
| 0-60 mph (sec) | 7.9 |
| 0-100 mph (sec) | 21.4 |
| 1/4-mile (sec) | 15.4 @ 89 mph |
| Top speed (mph) | 120 |
| Axle ratio | 3.55:1 |
| Engine type | 426 (365 hp) |
*Source: Car Life (1965)
Return to Classic Muscle Cars Library.
For more information on muscle cars, check out: