It wasn't the fastest muscle car, but with single-season styling and a unique combination of brake, engine, exhaust, and induction options, the 1969 Chevrolet Camaro Z28 was arguably the most desirable Z28 of all.
Classic Muscle Cars Image Gallery
Adding $458 to the $2,726 base price of a Camaro coupe, RPO Z28 included the F41 handling suspension with E70X15 raised-letter tires on seven-inch wide rims, quicker steering, and twin rally stripes. Front disc brakes were standard on the 1969 Chevrolet Camaro Z28, and for the first time, four-wheel discs were offered. They cost $500 and just 206 sets were delivered, about half going to full race cars.
The solid-lifter 302-cid V-8 with an 850-cfm four-barrel carburetor was again exclusive to the Z28. Dynomometer tests at close to 400 horsepower made a joke of its 290-horsepower rating. Dealer-installed dual four-barrel carburetor options were offered even in '67, and for '69, $500 bought twin 600-cfm Holleys on a cross-ram manifold, though at no change to the 290-horsepower rating. Chambered exhaust pipes -- perhaps the least-restrictive exhausts Chevy ever offered -- also were available.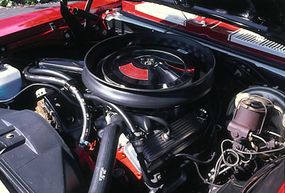 Yet another functional option unique to 1969 Chevrolet Camaro Z28s was the $79 cowl-induction hood. It had a valve that snapped open at 80-percent throttle to draw in cool air from the base of the windshield.
1969 Chevrolet Camaro Z28s again came only with a Hurst-shifted close-ratio four-speed; 3.73:1 gears were standard, with up to 4.10:1 gears available. Positraction was an option. Styling could be enhanced by the Rally Sport package, which gained transparent louvers for its hidden-headlamp covers.
Handling was razor-sharp, aided by power steering that was both quick and had road feel. Four-barrel 1969 Chevrolet Camaro Z28s could run the quarter mile in 14.8 seconds at 101 mph, but the small-block's shortage of low-end torque was multiplied with the dual-quads, which fed on sky-high revs. Even dropping the clutch at 4000 rpm produced stumble off the line.
As Trans Am titles in 1968 and '69 showed, the Z28 was a road-racer first, a street machine second. Drivers who understood its bare-knuckle character bought 7,199 of them for '68, and sales nearly tripled for the 1969 Chevrolet Camaro Z28 -- a record that would stand until 1978.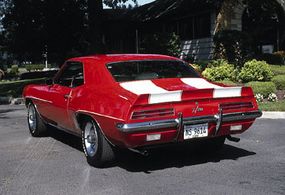 The '69 Z28 was one of the hottest-looking rides of the classic muscle car era, and showed what Chevy stylists could do to express performance and excitement. For additional photos of '69 Z28s, and a special look back at a fascinating selection of vintage Camaro brochures, explore the next three pages in this article.
Return to Classic Muscle Cars Library.