Another golden age of American high performance has been ushered in with a range of remarkable modern muscle cars. These machines combine the speed and power of their hallowed ancestors but add new elements of safety, handling, reliability, and even fuel economy.
Of course, the world of modern muscle cars wouldn't be complete without a Pontiac GTO. It seemed impossible, yet there it was: a brand-new GTO for 2004. GM vice-chairman Bob Lutz, a canny car guy with a long memory, wanted to give ailing Pontiac a hot showroom draw to replace the departed Firebird. He knew GM Australia had a slick Corvette-powered rear-drive coupe that would surely fill that bill. The deed was done after a twin-port grille, GTO badges, and other relatively minor changes were made.
The Aussie Goat could certainly go like a classic GTO, arriving with 350 bhp from a 350-cid V-8. Motor Trend got 5.3 seconds 0-60 and a 13.62-second quarter-mile, so no problem there.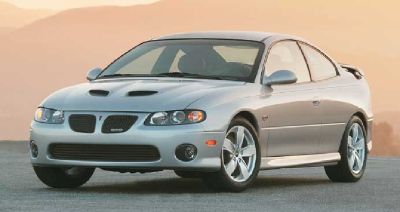 ©2007 Publications International, Ltd.
The 2005 Pontiac GTO was a step up from the 2004 model -- but it
still wasn't good enough for GTO aficionados. The car was canned after 2006.

Handling, braking, and workmanship were all light-years improved, as one would expect after three decades, and the ride was actually comfortable. But muscleheads took issue with the styling: not American enough, not tough enough. And how could a GTO not have hood scoops?
Future Muscle Cars

Classic muscle car names are being revived for the 21st century. Read about a couple that are on the drawing board:

Packing a hot small-block Chevy V-8, the reborn Chevrolet Camaro, due as a 2009 model, will be a true millennial muscle car. Check out the 2009 Chevrolet Camaro concept car.
Retro styling and high-tech Hemi power make the rejuvenated Dodge Challenger the very model of a modern muscle car. Learn about the 2008 Dodge Challenger

.
With this carping and resultant publicity, sales came in below expectations. Pontiac did what it could for 2005: standard twin-scoop hood, more exhaust rumble, and a bigger 364-cid Corvette small-block with a burly 400 bhp. But even this didn't satisfy GTO die-hards, so the car was cancelled after 2006 and an estimated total sales of around 32,000. It was a major disappointment for Mr. Lutz, but GM seems ready to try again. We hear another new GTO is coming around 2009, and you can bet the stylists won't fool around.
Bold styling helped Chrysler survive another brush with death in the early '90s, a turnaround that prompted a 1998 takeover by Mercedes-Benz. But few were prepared for the 2005 Chrysler 300 sedan, Dodge Magnum wagon, and 2006 Dodge Charger sedan.

A sharp departure from the curvy cab forward look, these new full-size LX cars were unabashedly blunt and blocky, with chopped rooflines and tightly drawn contours lending a muscular, almost menacing air.
Rear-wheel drive was back at Chrysler after a long absence. So, too, the legendary Hemi V-8. There were two of them, both brand-new: a 340-bhp 345 for the 300C, Magnum RT and Charger RT, and a deep-throated 425-bhp 370 for limited-edition SRT8 versions developed by Chrysler's Street and Racing Technology performance group. The smaller Hemi gestured to fuel economy with a Multi Displacement System that would shut down four cylinders under light throttle conditions like gentle cruising. But confirmed leadfoots found it hard to be gentle with a Hemi up front, and who could blame them?

©2007 Publications International, Ltd.
The fabled Hemi V-8 returned in the 2005 Chrysler 300C SRT8.

Despite automatic transmission and two-ton heft, the 340-bhp jobs could turn 0-60s in the mid-5s and quarter-miles in the low-14s at just over 100 mph. SRT8s were predictably faster still, doing 0-60 lunges in 5 seconds or less, sub-14 quarter miles, and 0-100 and back to 0 in no more than 17 seconds. Perhaps even more remarkable, these were mainline models with relatively mainstream $30,000-$40,000 prices, plus Mercedes engineering influence and all-American big-car room and comfort.
A few enthusiasts objected to the Charger's rebirth as a sedan, but big two-doors were ancient history. The LXs were instant hits, especially the 300, and though most left showrooms with a tame V-6, strong Hemi sales surprised even Chrysler.
Speaking of surprises, Cadillac was the last place one expected to find a muscle machine, yet the 2004 CTS-V was precisely that. Based on the division's year-old midsize sedan, it packed a 400-bhp version of the latest Chevrolet Corvette 350 V-8, which drove the rear wheels through a mandatory manual transmission, the first shift-it-yourself Caddy in over 50 years. Firm suspension, big brakes and boots, and a tastefully buffed exterior suggested superhero abilities, and the CTS-V didn't disappoint. Road & Track magazine timed 0-60 mph in a swift 5 seconds flat. Racing versions finished 1-2 in class at the famous Sebring 12-Hour road race against formidable foes, Corvettes included.
Cadillac was reinventing itself for a new century and a new audience, so the CTS-V was no fluke. Proving that point was the 2006 STS-V, a slightly larger rear-drive sedan packing a supercharged version of Cadillac's own world-class "Northstar" V-8. A massive 469 bhp delivered 0-60 in less than 5 seconds, easily a match for European stormers like the BMW M5 and Mercedes CLS 55 that cost far more than the Caddy's $75,000.
But the action wasn't confined to the high-price spread, not by a long shot. It was a very long time coming, but the redesigned 2005 Mustang was arguably the best Ford pony car ever and made '60s-style muscle affordable once again.

©2007 Publications International, Ltd.
The 2005 Ford Mustang GT bridged the generation gap,
which meant smoking-hot sales figures.

For starters, this was the first Mustang with its own structure. Even the superstar 1964 original shared a good many bones with the humble Falcon compact. Moreover, the '05 was a real head-turner, an artful homage to '60s Mustangs, yet fresh and modern, too. Baby boomers thought it "boss," while younger enthusiasts judged it "way cool." If ever a car bridged the old generation gap, this was it. No wonder year-to-year Mustang sales more than doubled to the highest total in more a decade.
The redesign increased overall size but added little weight, and that was more than offset by extra standard power. The base V-6 was now a torquey 245-cid job with 210 bhp, but enthusiasts gravitated to the ever-popular GT, which claimed 300 ponies from a muscled-up 281-cid V-8. Combined with the stiff new platform and a thoroughly reengineered chassis, the GT was a dream drive -- and an irresistible performance buy at around $25,000 for the fastback coupe and some $4,800 more for the convertible that arrived for 2006.
With the standard 5-speed manual and going pedal-to-metal, a GT could romp 0-60 in just over 5 seconds and finish the quarter-mile in less than 14 seconds at around 103 mph. Think about that. Right out the box, a new GT would out drag all but the most exotic classic Mustangs yet cost far less in relative terms and offered fuel efficiency and safety features unimaginable in muscle's golden age.
But wait. There was much more. After a long separation, Carroll Shelby renewed his association with Dearborn to oversee a high-power replacement for the Mustang Cobra. Debuting for 2007, the new Shelby GT500 coupe and convertible boasted a whopping 500 horses from a supercharged version of the twincam 330-cid "mod" V8, plus a heavy-duty 6-speed manual transmission, more-aggressive styling, and many special touches throughout. Performance was mind-boggling: 0-60 blasts of 4 seconds flat, quarter-mile runs of 12.5 at 116 mph. Top speed? A blazing 160 mph -- with a governor!
Of course, this firepower carried a price, but no other car delivered 500 horses with low $40,000 stickers, not to mention trackworthy handling and braking. In all, the reborn Shelby GT500 was a modern marvel with thrilling '60s soul.
What's next for Detroit muscle? Plenty, from what we can tell. Ford, GM, and Chrysler may be struggling for survival now, but they won't give up on all-American performance. Indeed, they view it as a powerful asset to help secure their futures. That's why Dodge has announced a revived Challenger pony car for 2008 -- with a Hemi, of course -- and why Chevrolet promises a new Camaro around for 2009. We also know Ford is working on another clean-sheet Mustang. A new GTO seems likely, as noted above, and we wouldn't be surprised to hear V-8s rumble in a hot new Chevy Impala and a burly new Ford (perhaps called Interceptor).
So the muscle car saga goes roaring on, a happy prospect in our troubled world, especially for those who were there when it all started. Which brings us to a happy epilogue in the classic muscle car story, one with its own high-powered excitement. That would be the rediscovery of timeless muscle classics by a 1960s generation now grown up and newly affluent. See in the next section to learn how baby boomers have created Muscle Mania II, or 2.0 if you prefer.
Return to Muscle Car Information Library.
For more cool muscle car information, see:
Muscle cars came in many shapes and sizes. Here are features on more than 100 muscle cars, including photos and specifications for each model.
The phrase Mercury muscle cars was no contradiction in terms; even this staid marquee had a quick-car lineup.
Chevrolet muscle cars beat at the heart of big-cube high performance.