Chevrolet brought muscle car power to the people in the early 1960s, especially with the 1961 Chevrolet Impala SS 409. The mid-1961 introduction of the Chevrolet Impala Super Sport option package showcased another new arrival, the 409-cid V-8.
A bargain at just $53.80, the SS "kit" was offered on any Impala. It included Super Sport trim inside and out, chassis reinforcements, stronger springs and shocks, power brakes with sintered metallic linings, spinner-type wheel covers, and one of Chevy's earliest uses of narrow-band whitewall tires. The dashboard gained a Corvette-type passenger grab bar and the steering column got a 7000-rpm tachometer.
Only Chevy's toughest V-8s were offered with the SS kit. The available 348-cid mills ranged from a four-barrel with 305 bhp to a tri-carb with 350. The other choice was the 409. Essentially a larger-displacement 348, its upgrades included forged aluminum pistons, a wilder camshaft, and 11.25:1 compression. A single four-barrel mated to the aluminum manifold. It made 360 bhp. It also made history.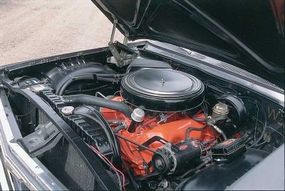 Chevy built 491,000 Impalas for '61. Only 453 had the SS package and of those, just 142 got the 409. But word spread quickly. Here was a mainstream Chevy V-8 with 409 lb-ft of torque and the ability to turn mid-15-second quarter miles with the standard 3.36:1 rear axle and mandatory four-speed manual. "She's real fine, my 409," sang the Beach Boys, and a legend was born.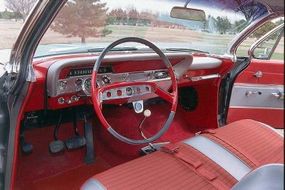 The SS badge would grace great Chevys into the 1970s before going on an extended hiatus. The 409 lasted only through 1965. It would eventually make as much as 425 bhp and be offered even in stripper Bel Airs and Biscaynes. But a basis design traced to a late-1950s truck engine and incompatibility with serious performance hop-ups doomed it in an era of modern high-performance engines.
All told, the 409 went into just 43,775 cars. That its reputation outshines its production numbers shows how much impact the 409 had on muscle's early days.
Return to Classic Muscle Cars Library.
For more cool information on muscle cars, see:
Chevy muscle cars beat at the heart of big-cube high performance. See profiles, photos, and specifications of Chevy muscle cars.
Muscle cars came in many shapes and sizes. Here are features on more than 100 muscle cars, including photos and specifications for each model.
Muscle cars created their own culture. To learn about it, read How Muscle Cars Work.