The low-14-second quarter-mile times posted by the 1971 Chevrolet Chevelle SS 454 required no apology. But they weren't too impressive coming off a year in which the best Chevelle muscle cars dipped into the low 13s. Chevy, like all of Detroit, was struggling to cope with a world that had changed overnight.
Emissions standards had forced a switch to low-lead fuel, which in turn cut compression ratios, while insurance surcharges on supercars prompted tamer power-to-weight ratios. The impact was obvious in the 1971 Chevelle SS line, where small-blocks re-emerged in the form of two 350-cid V-8s, a 245-bhp two-barrel and a 270-bhp four-barrel.
But big-block power still was available. The 402-cid four-barrel cost $173 and had 300 bhp, 50 bhp below the previous year's base SS engine. To retain the hallowed SS 396 badging, Chevy had called the 1970 402 a "396." For 71, it was renamed the "Turbo Jet 400."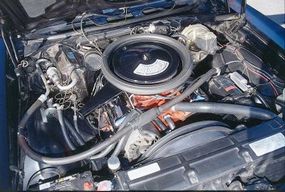 Chevy had taunted enthusiasts with word that the majestic 454-cid LS6 would be back for '71. Compression would be a modest 9-0:1, but output a still-formidable 425 bhp. It was never released for public sale, however. Instead, the hydraulic-lifter LS5 returned as a $279 option on top of the basic SS package.
Compression fell to 8.5:1, from 10.25:1, but output actually increased by five horsepower, to 365, though it peaked 600 rpm lower than in '70. Torque was down by 35 lb-ft. The LS5 was teamed with the Turbo Hydra-matic 400 or the M22 Rock Crusher four speed; 3.31:1 gears were standard, with a 4.10:1 Posi optional.

The basic SS package included a lot for its $357 price: the F41 suspension with front and rear stabilizer bars, power front discs, wider F60 tires on larger 15-inch five-spoke wheels, and blackout grille. All Chevelles got single headlamps borrowed from the Monte Carlo, and the SS could be spiffed with optional racing stripes and the extra-cost Cowl Induction hood.
Interestingly, only LS5 cars carried external engine ID; their badges said "SS 454." All others wore simple "SS" insignia. That was a pretty revealing sign of the times.
Return to Classic Muscle Cars Library.