The low-14-second quarter-mile times posted by the 1971 Chevrolet Chevelle SS 454 required no apology. But they weren't too impressive coming off a year in which the best Chevelle muscle cars dipped into the low 13s. Chevy, like all of Detroit, was struggling to cope with a world that had changed overnight.
Emissions standards had forced a switch to low-lead fuel, which in turn cut compression ratios, while insurance surcharges on supercars prompted tamer power-to-weight ratios. The impact was obvious in the 1971 Chevelle SS line, where small-blocks re-emerged in the form of two 350-cid V-8s, a 245-bhp two-barrel and a 270-bhp four-barrel.
©2007 Publications International, Ltd. The $100 gauge group with sport steering wheel is among this ragtop's options.
But big-block power still was available. The 402-cid four-barrel cost $173 and had 300 bhp, 50 bhp below the previous year's base SS engine. To retain the hallowed SS 396 badging, Chevy had called the 1970 402 a "396." For 71, it was renamed the "Turbo Jet 400."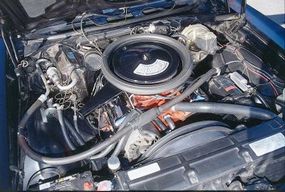 ©2007 Publications International, Ltd. The LS5 454 was a $279 extra for the SS group. It had 365 bhp and went into9502 of the 19,293 Chevelle SSs (including El Caminos) Chevy built for 1971.
Chevy had taunted enthusiasts with word that the majestic 454-cid LS6 would be back for '71. Compression would be a modest 9-0:1, but output a still-formidable 425 bhp. It was never released for public sale, however. Instead, the hydraulic-lifter LS5 returned as a $279 option on top of the basic SS package.
Compression fell to 8.5:1, from 10.25:1, but output actually increased by five horsepower, to 365, though it peaked 600 rpm lower than in '70. Torque was down by 35 lb-ft. The LS5 was teamed with the Turbo Hydra-matic 400 or the M22 Rock Crusher four speed; 3.31:1 gears were standard, with a 4.10:1 Posi optional.

©2007 Publications International, Ltd. The SS package included special suspension, power front disc brakes, and nicefive-spoke wheels. Racing stripes and cowl-induction hood were also available.
The basic SS package included a lot for its $357 price: the F41 suspension with front and rear stabilizer bars, power front discs, wider F60 tires on larger 15-inch five-spoke wheels, and blackout grille. All Chevelles got single headlamps borrowed from the Monte Carlo, and the SS could be spiffed with optional racing stripes and the extra-cost Cowl Induction hood.
Interestingly, only LS5 cars carried external engine ID; their badges said "SS 454." All others wore simple "SS" insignia. That was a pretty revealing sign of the times.
Return to Classic Muscle Cars Library.
For more cool information on muscle cars, check out:
Chevy muscle cars beat at the heart of big-cube high performance. See profiles, photos, and specifications of Chevy muscle cars.
Muscle cars came in many shapes and sizes. Here are features on more than 100 muscle cars, including photos and specifications for each model.
Muscle cars created their own culture. To learn about it, read How Muscle Cars Work.
These muscle car profiles include photos and specifications for each model:
The 1961 Pontiac Ventura 389 was among the most stylish early muscle cars.

Fastbacks were nothing new, but none was faster than the 1966 Dodge Charger 426 Hemi.

The 1963 Plymouth 426 Wedge was so undomesticated it came with warnings not to use it on the public roads.

No muscle car promised more performance, or had more trouble delivering it, than the star-crossed 1969 Ford Mustang Boss 429.
For related car information, see these articles:
The engine is what gives a muscle car its flamboyant personality. To learn everything you need to know about car engines, see How Car Engines Work.
Muscle cars wouldn't have much muscle without horsepower -- but what exactly is horsepower? How Horsepower Works answers that question.
NASCAR race cars embody the muscle car philosophy of power. Read How NASCAR Race Cars Work to find out what makes these charged-up racers go.

Are you thinking of buying a 2007 muscle car, or any other car? See Consumer Guide Automotive's New-Car Reviews, Prices, and Information.