A blend of sports car and muscle car, the 1967 Shelby GT 500 satisfyed a maturing taste for high performance.
The GT 500 represented a departure for Ford factory tuner Carroll Shelby. To make a road-racing champ of the 1965-1966 Mustangs, Shelby had transformed them into thundering thoroughbreds ill-suited to everyday driving. By 1967, however, Shelby's audience was demanding more civility, and the original pony car was undergoing a revamp that finally gave it room for big-block power.
Classic Muscle Car Image Gallery
With the introduction of the 1967 models, regular Mustangs could get a 320-bhp 390-cid four-barrel V-8. Shelby, naturally, went further. His GT 350 retained its 289-cid V-8 with its 306-bhp rating. And a new model, the 1967 Shelby GT 500, got a reworked 428-cid "Police Interceptor."
The 428 was otherwise reserved for bigger Fords, where it made 345 bhp. Shelby added the cast-aluminum medium-rise intake manifold from Ford's 427, twin 600-cfm Holley four-barrel carburetors, and other tweaks for a conservative rating of 355 bhp. During manufacture or through dealers, a handful of 1967 Shelby GT 500s were equipped with Ford's near race-ready 427-cid V-8.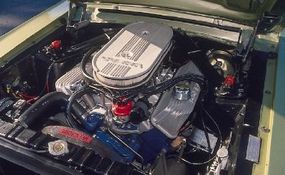 ©2007 Publications International, Ltd. Aluminum air cleaner and valve covers embellished the Shelby GT's dual-quad 428.
The 1967 GT 500 had a four-speed manual transmission or a three-speed automatic, with axle ratios ranging from 3.50:1 to 4.11:1. Instead of true competition-grade underpinnings, the suspension was a fortified version of the Mustang GT's, with standard front disc brakes and E70X15 tires. Also gone were the two-seat cabins and standard racing harnesses of the original GT 350.
All 1967 Shelby GT 500s had Mustang GT-level interior trim; air conditioning and power steering were new factory options. An 8000-rpm tach, 140-mph speedometer, and padded roll bar, however, remained Shelby standards.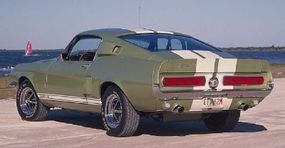 ©2007 Publications International, Ltd. Shelby fitted his own fiberglass body parts, including hood, functional scoops, and front and rear fascias, and installed sequential turn-signal lamps. Twin stripes were dealer-applied options.
Always looking to improve performance, Shelby outfitted the GT 500s with fiberglass body pieces, including an elongated nose, a hood with functional scoops, and four body side intakes. The fiberglass tail had a molded spoiler and sequential turn-signal lamps borrowed from the Mercury Cougar. High-beam headlights were mounted in the center of the grille (some were moved to the sides to meet state laws). Twin "Le Mans" stripes were dealer-applied options for any 1967 Shelby GT 500.
If Shelby Mustangs were now less race car and more grand touring machine, that was fine with buyers, who took an immediate liking to Shelby's latest. The 1967 Shelby GT 500 cost just $200 more than the GT 350 and handily outsold its small-block companion by 875 units.
Return to Classic Muscle Cars Library.
For more cool information on muscle cars, check out:
Some of the best all-around performance machines of the day were Ford muscle cars. See profiles, photos, and specifications of Ford muscle cars.
Muscle cars came in many shapes and sizes. Here are features on more than 100 muscle cars, including photos and specifications for each model.
Muscle cars created their own culture. To learn about it, read How Muscle Cars Work.
These muscle car profiles include photos and specifications for each model:
The 1961 Pontiac Ventura 389 was among the most stylish early muscle cars.

Fastbacks were nothing new, but none was faster than the 1966 Dodge Charger 426 Hemi.

The 1963 Plymouth 426 Wedge was so undomesticated it came with warnings not to use it on the public roads.

Any '71 Chevelle could wear a Super Sport badge, but only the 1971 Chevrolet Chevelle SS 454 earned the right to display its engine size, too.
For related car information, see these articles:
The engine is what gives a muscle car its flamboyant personality. To learn everything you need to know about car engines, see How Car Engines Work.
Muscle cars wouldn't have much muscle without horsepower -- but what exactly is horsepower? How Horsepower Works answers that question.
NASCAR race cars embody the muscle car philosophy of power. Read How NASCAR Race Cars Work to find out what makes these charged-up racers go.

Are you thinking of buying a 2007 muscle car, or any other car? See Consumer Guide Automotive's New-Car Reviews, Prices, and Information.