Muscle car fans thought the 1969 Ford Mustang Boss 429 would be the Mustang to finally rival the best of the Corvettes. They were disappointed when it wasn't. But Ford never intended the Boss 429 as a street dominator, or as any kind of drag-racing threat. This gap between expectation and intent dimmed the glow of an extraordinary car.
The Boss 429 was born of Ford's need to qualify 500 examples of its new racing engine for NASCAR. But instead of putting production units in the midsize Torinos it ran in stock-car racing, Ford offered the engines in its restyled '69 Mustang fastback. It was a serious mill: four-bolt mains, a forged steel crankshaft, and big-port, staggered-valve aluminum heads with crescent-shaped combustion chambers.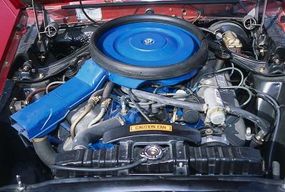 A 735-cfm Holley four-barrel with ram-air, an aluminum high-riser, and header-type exhaust manifolds completed the engine, which retailed for $1,200. Mandatory options included a four-speed ($254) and a 3.91:1 Traction-Lok ($64). An oil cooler, trunk-mounted battery, beefed suspension with front and rear stabilizer bars, Polyglas F60X15s, quicker power steering, and power front discs rounded out the functional hardware. Boss 429s used Mustang's plushest interior decor and an 8000-rpm tach. They were refreshingly clean outside, with simple decals, hood scoop, front spoiler, and Magnum 500 wheels. Air conditioning and automatic transmission were forbidden.
This was the costliest non-Shelby Mustang, and part of the expense was a reworked front suspension to fit the big semi-hemi 429. The surprising upside was a wider front track and improved geometry that, with the husky tires, gave the Boss 429 fine handling. But who wanted handling?

The superspeedway-bound 429 thrived on high revs -- bad news for standing-start acceleration. Moreover, the initial batch had incorrect valve springs and stopped winding at 4500 rpm, not the correct 6000. Even with such hop-ups as Hurst linkage, traction bars, high-performance cam, and rejetted carb, quarter-mile performance fell short of other big-block specialty cars.
Ford built 1,356 Boss 429 Mustangs and two Cougars for '69 and '70 before ending its factory racing program and retiring a car whose promise and purpose never really meshed.
Return to Classic Muscle Cars Library.