Chrysler's corporate drag racing efforts went extreme in 1965 with a handful of purpose-built drag machines born of the muscle car era's "win at all costs" mentality. The 1965 Plymouth Factory Altered Wheelbase cars and their Dodge counterparts resulted from a cutthroat battle between Ford and Chrysler for victory in the NHRA's Super Stock and A/Factory Experimental (A/FX) classes.
When Chrysler got wind that Ford was planning to equip its smaller Mustang and Comet bodies with the formidable SOHC (single overhead cam) 427-cid engine for the 1965 A/FX season, it decided that radical measures were necessary to keep its midsize Plymouth Belvederes and Dodge Coronets competitive. In late 1964, Chrysler engineers began constructing six Belvederes and six Coronets for intense dragstrip duty.
Each Mopar altered wheelbase car underwent serious surgery. The wheels were moved forward -- the rear axle by 15 inches, the front suspension by 10 -- to create a 110-inch wheelbase racer that put about 56 percent of the car's weight over the rear tires. The steel body panels were dipped in an acid tank to make them lighter.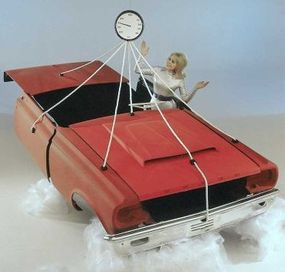 The bizarre appearance of these radically modified production cars prompted the name "funny car," but the alterations served an important purpose: The shifted wheelbase allowed for superior weight transfer off the starting line. This was critical to achieve adequate traction with the relatively primitive racing tires of the day.
All the Chrysler-built AWB cars were distributed to the factory-backed Dodge and Plymouth drag race teams; Plymouth's roster included such notable wheelmen as Ronnie Sox, Butch Leal, and Al Eckstrand. NHRA officials took one look at the wildly modified cars and quickly banned them from A/FX competition. It didn't really matter, since the cars found a home on the popular and lucrative match race circuit.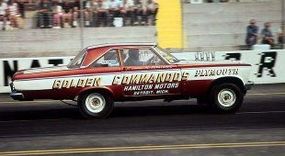 All Mopar AWB cars were powered by race-tuned Hemi engines, and they started the season with dual four-barrel carburetion. In this form, they were capable of 10.20-second quarter-mile elapsed times at 138 mph. Chrysler authorized a switch to Hilborn fuel injection during the season, and the ETs improved to the mid nine-second range at 140+ mph. Though the Chrysler AWB cars would be quickly eclipsed by fiberglass-bodied, tube-chassis funny cars, they remain some of the wildest factory-built drag machines ever constructed.
Return to Classic Muscle Cars Library.
For more cool information on muscle cars, see:
Plymouth muscle cars spanned the spectrum from fanciful to fearsome -- and sometimes displayed both qualities in a single model. See profiles, photos, and specifications of Plymouth muscle cars.
Muscle cars came in many shapes and sizes. Here are features on more than 100 muscle cars, including photos and specifications for each model.
Muscle cars created their own culture. To learn about it, read How Muscle Cars Work.