No '68 muscle car looked more debonair, or packed a larger V-8, than the 1968 Hurst/Olds.
The Hurst part of the name referred to George Hurst, whose promotional fervor was luckily matched by the quality of his work. By the mid '60s, the former Philadelphia repair-shop owner's name was on some of drag racing's wildest exhibition cars, from the wheelstanding Hemi Under Glass to the tire-frying twin-engine Hurst Hairy Olds. And then there was Linda Vaughn, Miss Hurst Golden Shifter.
But for every stunt, there was a good product, like great transmission linkages or Hurst's most-important invention, the Jaws of Life rescue tool. It was conservative Oldsmobile, however, that first put the ballyhooed Hurst name on a production car.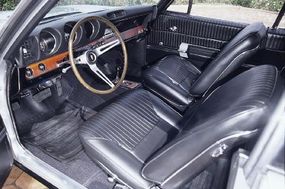 ©2007 Publications International, Ltd. Hurst's souped-up Oldsmobile 4-4-2 came with wood dashboard trim and GMTurbo Hydra-matic automatic transmission with a Hurst Dual-Gate Shifter.
The division's 4-4-2 entered '68 with curvaceous new styling courtesy of GM's intermediate-car revamp. Its 400-cid V-8 had 350 bhp -- 360 with the new Force Air option, a factory-installed induction system that inhaled through scoops beneath the front bumper. The W-30 option returned as a blueprinted 360-bhp mill backed by a beefed-up drivetrain and cost $263.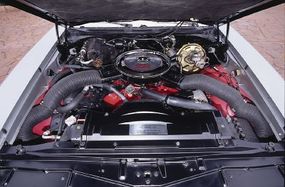 ©2007 Publications International, Ltd. The 1968 Hurst/Olds turned the muscle car formula up a notch, employing theOld's Toronado's beefy 455-cid V-8 and the 4-4-2's Force Air Systemof ducting tubes and under-bumper inlets. It was rated at 390 bhp.
Hurst engineer Jack "Doc" Watson had built his boss a custom '68 4-4-2. The enterprising Hurst sold Olds on the publicity value of building a limited run of similar cars for sale through key Olds dealers. Whether the Cutlass S coupes Olds shipped to an outside assembly site were already equipped with the special 390-bhp 455-cid Toronado V-8 is under debate, but all the cars did get Force Air systems and Turbo Hydra-matics with a Hurst Dual-Gate shifter.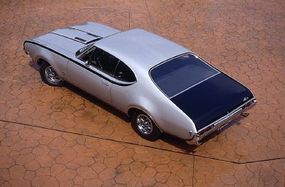 ©2007 Publications International, Ltd. A black rear-deck panel and black stripes accented the "Peruvian Silver"paint job on the entire 1968 run of 515 Hurst/Old muscle cars.
The suspension used the best factory components, so handling was on a par with the lauded 4-4-2's. The 455 V-8 was no handicap; it actually weighed 12 pounds less than the 400. All cars were painted Toronado "Peruvian Silver" with black accent stripes and rear-deck panel.
Outstanding power, fuss-free performance, full warranty, and exclusivity came at $1,161 over the sticker of a regular 4-4-2. Dealers took 3,000 orders for the car, far more than could be filled. The hype was real, and the '68 Hurst/Olds marked the start of a great muscle-car friendship.
Return to Classic Muscle Cars Library.
For more cool information on muscle cars, check out:
No muscle cars were more stylish, sophisticated, or brawnier than those from Oldsmobile. See profiles, photos, and specifications of Oldsmobile muscle cars.
Muscle cars came in many shapes and sizes. Here are features on more than 100 muscle cars, including photos and specifications for each model.
Muscle cars created their own culture. To learn about it, read How Muscle Cars Work.
Check out these profiles of muscle cars, which include photos and specifications for each model:
For related car information, see these articles:
The engine is what gives a muscle car its flamboyant personality. To learn everything you need to know about car engines, see How Car Engines Work.
Muscle cars wouldn't have much muscle without horsepower -- but what exactly is horsepower? How Horsepower Works answers that question.
NASCAR race cars embody the muscle car philosophy of power. Read How NASCAR Race Cars Work to find out what makes these charged-up racers go.

Are you thinking of buying a 2007 muscle car, or any other car? See Consumer Guide Automotive's New-Car Reviews, Prices, and Information.