No '68 muscle car looked more debonair, or packed a larger V-8, than the 1968 Hurst/Olds.
The Hurst part of the name referred to George Hurst, whose promotional fervor was luckily matched by the quality of his work. By the mid '60s, the former Philadelphia repair-shop owner's name was on some of drag racing's wildest exhibition cars, from the wheelstanding Hemi Under Glass to the tire-frying twin-engine Hurst Hairy Olds. And then there was Linda Vaughn, Miss Hurst Golden Shifter.
But for every stunt, there was a good product, like great transmission linkages or Hurst's most-important invention, the Jaws of Life rescue tool. It was conservative Oldsmobile, however, that first put the ballyhooed Hurst name on a production car.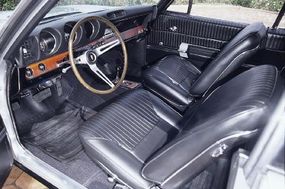 The division's 4-4-2 entered '68 with curvaceous new styling courtesy of GM's intermediate-car revamp. Its 400-cid V-8 had 350 bhp -- 360 with the new Force Air option, a factory-installed induction system that inhaled through scoops beneath the front bumper. The W-30 option returned as a blueprinted 360-bhp mill backed by a beefed-up drivetrain and cost $263.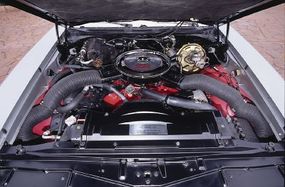 Hurst engineer Jack "Doc" Watson had built his boss a custom '68 4-4-2. The enterprising Hurst sold Olds on the publicity value of building a limited run of similar cars for sale through key Olds dealers. Whether the Cutlass S coupes Olds shipped to an outside assembly site were already equipped with the special 390-bhp 455-cid Toronado V-8 is under debate, but all the cars did get Force Air systems and Turbo Hydra-matics with a Hurst Dual-Gate shifter.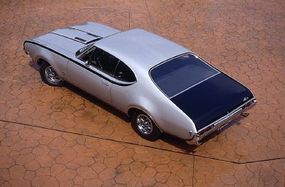 The suspension used the best factory components, so handling was on a par with the lauded 4-4-2's. The 455 V-8 was no handicap; it actually weighed 12 pounds less than the 400. All cars were painted Toronado "Peruvian Silver" with black accent stripes and rear-deck panel.
Outstanding power, fuss-free performance, full warranty, and exclusivity came at $1,161 over the sticker of a regular 4-4-2. Dealers took 3,000 orders for the car, far more than could be filled. The hype was real, and the '68 Hurst/Olds marked the start of a great muscle-car friendship.
Return to Classic Muscle Cars Library.