With freshened styling, the 1970 Plymouth Road Runner Hemi was an integral part of Plymouth's "Rapid Transit System" -- the advertising tagline it applied to its bawdiest muscle cars. The redesigned 'Cuda, the new Duster 340, and the restyled GTX were also charter members. Rapid Transit ads were rife with op-art graphics, flower-power imagery, and brilliant colors. They were an unabashed reflection of the times.
In one ad, the 1970 Plymouth Road Runner Hemi was introduced with a photo showing a giant, three-dimensional sculpture of its goofy cartoon namesake emerging from a trap door on the hood. The tag line, "The loved bird," was both a wry play on words and an accurate reflection of the car's popularity. The photo also illustrated a functional new feature, the Air Grabber hood.
The Air Grabber hood was standard on 1970 Plymouth Road Runners with the 426-cid Hemi engine and available with either 440. The driver would trip an underdash switch, causing the power-operated trap door to rise slowly, revealing a planed-off scoop with a snarling shark cartoon painted on its side -- just the thing for psyching out the opposition at stoplights. The source of the car's whimsical "beep-beep" horn sound was a purple underhood module.
Externally, the 1970 Plymouth Road Runner Hemi was restyled with handsome loop-motif front and rear ends and dummy rear-fender scoops. Under the hood, powertrains were basically unchanged, though the 426 Hemi engine went from solid to hydraulic lifters in the interest of greater durability and cleaner emissions, and the Road Runner's standard four-speed manual moved to the options list, replaced by a heavy-duty three-speed. Plymouth Road Runner sales slipped from 43,400 to about 39,600 units for '70, of which 75 hardtops, 74 pillared coupes, and three convertibles got the optional 426 Hemi engine.
Of course, performance wasn't compromised. A Hemi-equipped 1970 Plymouth Road Runner could accelerate from 0 to 60 mph in 5.6 seconds and blaze the quarter mile in 13.49 seconds at 106 mph.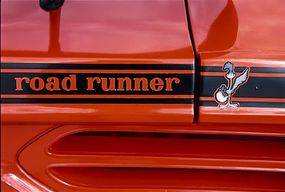 Return to Classic Muscle Cars Library.
Plymouth muscle cars spanned the spectrum from fanciful to fearsome -- and sometimes displayed both qualities in a single model. See profiles, photos, and specifications of Plymouth muscle cars.
Muscle cars came in many shapes and sizes. Here are features on more than 100 muscle cars, including photos and specifications for each model.
Muscle cars created their own culture. To learn about it, read How Muscle Cars Work.
These muscle car profiles include photos and specifications for each model:
For related car information, go to these articles:
The engine is what gives a muscle car its flamboyant personality. To learn everything you need to know about car engines, see How Car Engines Work.
Muscle cars wouldn't have much muscle without horsepower -- but what exactly is horsepower? How Horsepower Works answers that question.
NASCAR race cars embody the muscle car philosophy of power. Read How NASCAR Race Cars Work to find out what makes these charged-up racers go.

Are you thinking of buying a 2007 muscle car, or any other car? See Consumer Guide Automotive's New-Car Reviews, Prices, and Information.