First. Most powerful. Quickest. Only one Chevy combines it all: the 1969 Chevrolet ZL1 Camaro. It went a step beyond the 427 Yenko and even the mighty L88 Corvette, to where few production muscle cars tread.
Drawing a bead on NHRA Super Stock drag classes, Chevy performance guru Vince Piggins authorized the factory to fit a batch of '69 Camaros with a version of the 427-cid V-8 used by the all-conquering Can-Am Chaparral. This actually was another of Piggins' Central Office Production Order projects, and like the COPO Chevelles and Camaros being built for '69, the ZL1 was technically a Camaro option package.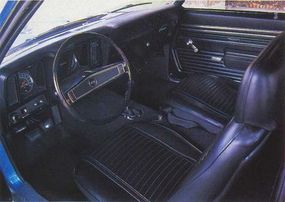 The cars began as 396-cid/375-bhp Super Sports with the F4l suspension. Engine and SS trim were deleted, and the cars were equipped essentially as other 427 COPO Camaros, with cowl-induction hood, front disc brakes, a choice of heavy-duty four-speeds or Turbo Hydra-matic, and a 4:10.1 Posi in the strongest axle Chevy could muster. But instead of the iron-block and head L72 427, these Camaros got a 427 called the ZL1.
It was similar in design to the most-potent iteration of the aluminum-head L88, but it was the first production Chevy engine to also have an aluminum block. It shared the L88's 430-bhp factory rating, but actually had over 500 bhp -- making it likely the most powerful engine Chevy ever offered to the public. And it weighed just 500 pounds -- about the same as Chevy's 327-cid V-8.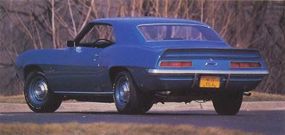 The entire car carried the full 5-year/50,000-mile warranty and was fully street-legal. With the factory's stock dual exhausts and tires, it turned low 13s; headers, slicks, and tuning got it into the 11.6s at 122 mph. Chevy never built a quicker production car.
All this came at a price: $4,160 for the ZL1 engine alone, pushing the car's sticker to a stratospheric $7,200. Chevy needed to build 50 to satisfy the NHRA, and actually built 69. About 20 ZL1s went into organized drag racing, turning low 10s to set several Super Stock records. Well-heeled individuals bought others, but the high price took a toll: At least 12 engines were removed and sold separately, and about 30 unsold cars were returned to Chevy. It took until the early '70s to sell them off.
Return to Classic Muscle Cars Library.