By 1968, muscle cars had evolved from mainstream models with expensive special engines to expensive special models with expensive special engines. What the youth of America needed was an inexpensive mainstream model with an inexpensive special engine. The 1968 Plymouth Road Runner was just such a muscle car.
It started with a pillared coupe, the lightest and least-costly iteration of the handsome new Belvedere body. The engine was Mopar's proven 383-cid V-8, but with heads, manifolds, camshaft, valve springs, and crankcase windage tray from the big, bad 440 Magnum. With its four-barrel carb and unsilenced air cleaner, the new mill made 335 bhp.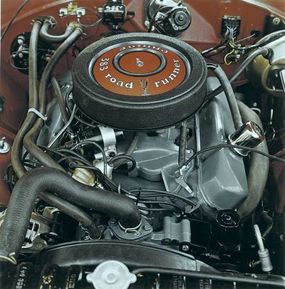 Serious-minded standard features included a strengthened four-speed manual, 3.23:1 gears, beefed suspension with high-rate rear leaf springs, 11-inch heavy-duty drum brakes, and Polyglas F70X14s. TorqueFlite was optional. The interior was bench-seat austere, and the base price was a stingy $2,896.
Plymouth paid Warner Bros. $50,000 for rights to decorate the new model with the name and likeness of a cartoon bird. It was just the right touch. The Road Runner became a smash hit. Plymouth forecasted sales of 2,500; buyers snapped up nearly 45,000. Motor Trend called it "the most brazenly pure, non-compromising super car in history...its simplicity is a welcome virtue."
Given the 383's strong feel and the car's reasonable weight, 15-second ETs were a tad disappointing. The $88 High-Performance Axle Package with its 3.55:1 Sure Grip got more out of the 383.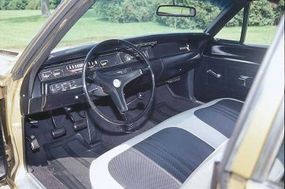 But low-13s were just $714 away via the lone engine option: a 425-bhp 426 Hemi. Just 1,019 Road Runners got the Hemi, which came with a 3.54:1 Sure-Grip Dana 60 axle as a $139 mandatory option. Power front discs and power steering were smart extras. At midyear, a hardtop coupe was added, as was an optional underdash knob to open the otherwise-decorative hood vents.
Critics debated the wisdom of paying $17 for the cop-attracting matte-black hood treatment, and opinion divided on whether the "beep-beep" horn sounded like the cartoon bird or a delivery van. It actually was the sound of success.
Return to Classic Muscle Cars Library.
For more cool information on muscle cars, see:
Plymouth muscle cars spanned the spectrum from fanciful to fearsome -- and sometimes displayed both qualities in a single model. See profiles, photos, and specifications of Plymouth muscle cars.
Muscle cars came in many shapes and sizes. Here are features on more than 100 muscle cars, including photos and specifications for each model.
Muscle cars created their own culture. To learn about it, read How Muscle Cars Work.