When GM redesigned its intermediates for 1968, no division had a tougher muscle car act to follow than Pontiac. But talent rose to the challenge, and the 1968 Pontiac GTO emerged as a brilliant blend of beauty and brawn. It sustained the styling leadership of the 1966-67 series, and its performance remained competitive against ever-tougher rivals. Best of all, its aura was intact.
"In image, performance and class, the 'Tiger' is the car to equal," said Motor Trend in its survey of Detroit's '68 muscle armada. "Face it," said impressed Hot Rod editors after their first drive in the new Goat, "this is Pontiac's era."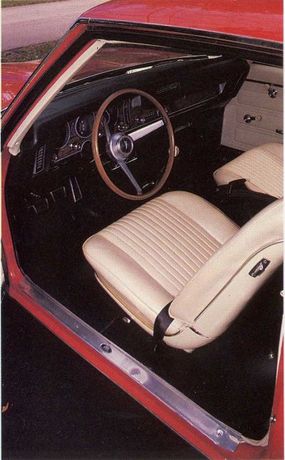 ©2007 Publications International, Ltd. The 1968 Pontiac GTO's bucket-seat interior remaineda study in the art of muscle car cabins.
Gone was the pillared coupe, leaving a two-door GTO hardtop and convertible, again with the best dash layout in supercar land. Curb weights were up about 75 pounds over '67, but a wheelbase shortened from 115 inches to a nimbler 112, another year of suspension tuning, and standard G77x14 tires improved handling enough to rival that of the best GM intermediate, the Oldsmobile 4-4-2.
Nothing rivaled the GTO's new energy-absorbing Endura bumper, which was molded and color-keyed to form the car's clean new nose. Hidden headlamps also were new and were so popular that most people didn't realize they were options.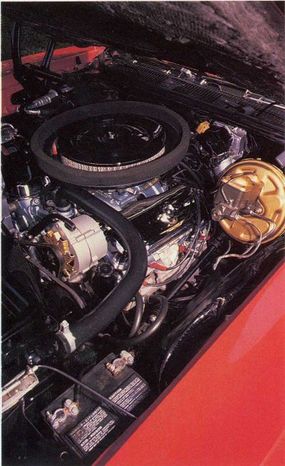 ©2007 Publications International, Ltd. The 400-cubic-inch V-8 got new cylinder headsand lighter valves in a mid-year upgrade.
A 400-cid four-barrel V-8 remained standard. The base version gained 15 bhp, to 350, while the HO and Ram Air editions climbed to 360 bhp. Midyear, Pontiac replaced the original Ram Air engine with the Ram Air II. Improvements included new cylinder heads, forged pistons, and lighter valves. Compression was unchanged, but output rose to 366 bhp. The Ram Air induction hardware was again shipped in the trunk for installation by the dealer. All engines were available with Hurst-shifted stick or automatic, though Ram Air cars came only with 4.33:1 gears and without air conditioning.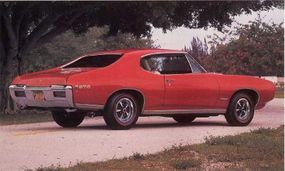 ©2007 Publications International, Ltd. Despite some rough riding, the 1968 Pontiac GTOwas popular with critics and buyers alike.
The steering transmitted too much road shock and had too little feel, and some sheetmetal wasn't the stoutest. But in the increasingly treacherous muscle jungle, the new GTO remained one of the big cats.
Return to Classic Muscle Cars Library.
For more cool information on muscle cars, check out:
Pontiac ignited the classic muscle car era with a stroke of marketing genus. See profiles, photos, and specifications of Pontiac muscle cars.
Muscle cars came in many shapes and sizes. Here are features on more than 100 muscle cars, including photos and specifications for each model.
Muscle cars created their own culture. To learn about it, read How Muscle Cars Work.
Check out these profiles of muscle cars, which include photos and specifications for each model:
Cougar pulled out of Mustang's shadow with the striped and spoilered 1969 Mercury Cougar Eliminator.

Beep, beep! Make way for one of the baddest muscle cars of all time, the 1970 Plymouth Road Runner Hemi.

The 1964 Ford Thunderbolt was quick as lightning and almost too strong for the street.

An all-aluminum, race-proven V-8 defined the rare and wicked 1969 Chevrolet Camaro ZL1.
For related car information, see these articles:
The engine is what gives a muscle car its flamboyant personality. To learn everything you need to know about car engines, see How Car Engines Work.
Muscle cars wouldn't have much muscle without horsepower -- but what exactly is horsepower? How Horsepower Works answers that question.
NASCAR race cars embody the muscle car philosophy of power. Read How NASCAR Race Cars Work to find out what makes these charged-up racers go.

Are you thinking of buying a 2007 muscle car, or any other car? See Consumer Guide Automotive's New-Car Reviews, Prices, and Information.