Some street racers weren't attention seekers. They got their kicks by humbling flashy, high-buck muscle cars, shutting them down in an ambush of speed and stealth. The 1969 Chevrolet Nova SS 396 seemed ideal for such duty. But looks can be deceiving.
Chevy had redesigned its compact for '68, but the look was still pretty tame. The chassis design, however, was shared with the Camaro, so big blocks finally fit. Sure enough, the 396-cid V-8 appeared as a Super Sport option partway through '68. For '69, the 396 was back in 350-bhp tune and -- for those who knew how to play the order form -- as the 375-bhp L78.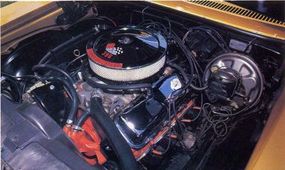 ©2007 Publications International, Ltd. Of 7,209 SS 396 Novas built for 1969, 5,262 got the L78 engine.
This was the hoodlum Nova. Building one began with the SS package. It added $280 to the $2405 base price of a Nova pillared coupe and included a 300-bhp 350-cid V-8, special suspension, red stripe F70xl4s, and power front discs. Replacing the 350 with the L78 cost another $500, but even with the $184 close-ratio four-speed, $43 limited-slip, and excellent $84 fast-ratio power steering, the price was an enticing $3,500 or so.
SS badges, black-accented grille and tail, and simulated hood air intakes marked the exterior, but nothing shouted supercar. Still, all stealthiness seemed to dissolve with the L78. What the "396" numerals on the fender suggested, the racket of solid lifters and the ominous rumble from dual exhausts confirmed.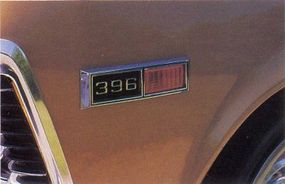 ©2007 Publications International, Ltd. An SS Nova was no sleeper in 375-bhp L78 form.The clatter of solid lifters and the rumble from its dualexhausts attracted too many eyes to those "396" badges.
"The junior Chevy with the senior engine... is an instantly recognized and feared street cleaner," reported Car and Driver. "The 396 Chevy II sure wasn't the invisible sleeper we had expected, but it was every bit as wild as we hoped."
Not only did the SS 396 stuff big power into a 3400-pound package, it put just 55 percent of its heft on the front axle, a favorable weight balance few muscle cars could match. Even so, torque and tire slip conspired to quell bite off the line. Cheater slicks solved the problem. True, they may have given away the Nova SS 396's true mission, but its cover was blown the moment the L78 fired up, anyway.
Return to Classic Muscle Cars Library.
For more cool information on muscle cars, check out:
Chevy muscle cars beat at the heart of big-cube high performance. See profiles, photos, and specifications of Chevy muscle cars.
Muscle cars came in many shapes and sizes. Here are features on more than 100 muscle cars, including photos and specifications for each model.
Muscle cars created their own culture. To learn about it, read How Muscle Cars Work.
These muscle car profiles include photos and specifications for each model:
The 1961 Pontiac Ventura 389 was among the most stylish early muscle cars.

Fastbacks were nothing new, but none was faster than the 1966 Dodge Charger 426 Hemi.

The 1963 Plymouth 426 Wedge was so undomesticated it came with warnings not to use it on the public roads.

Any '71 Chevelle could wear a Super Sport badge, but only the 1971 Chevrolet Chevelle SS 454 earned the right to display its engine size, too.
For related car information, see these articles:
The engine is what gives a muscle car its flamboyant personality. To learn everything you need to know about car engines, see How Car Engines Work.
Muscle cars wouldn't have much muscle without horsepower -- but what exactly is horsepower? How Horsepower Works answers that question.
NASCAR race cars embody the muscle car philosophy of power. Read How NASCAR Race Cars Work to find out what makes these charged-up racers go.

Are you thinking of buying a 2007 muscle car, or any other car? See Consumer Guide Automotive's New-Car Reviews, Prices, and Information.