Refinement was the byword for the 1968 Chevrolet Camaro SS 396. Astro-Ventilation, which circulated fresh air though the interior, spelled the demise of vent wing windows for this muscle car. And new federal regulations brought on side-marker lights.
Super Sport equipment added just $210 to a coupe or convertible and again included a heavy-duty suspension and the 285-bhp 350-cid V-8. For another $52, buyers could get the 325-bhp version of the 396-cid V-8, while an additional $240 or so netted the 375-bhp L78. Splitting the difference in price and power was a new 350-bhp version of the 396. About 270 396s received special-order aluminum cylinder heads and earned the L89 badge but saw no change to the 375-bhp rating.
Axle tramp was diminished with the addition of staggered rear shocks to all Camaros, while SS models got the additional benefits of five-leaf rear springs. The front disc brake option again included slotted Rally wheels in 14- and 15-inch sizes. Positraction remained a $442 extra. The SS 396 gained its own hood with dual banks of four nonfunctional ports and was the only Camaro Super Sport with a blackout tail panel. The hidden-headlamp Rally Sport package returned at $105.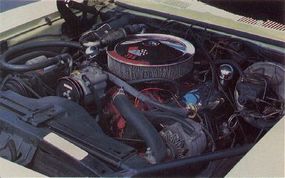 Inside, Camaros ordered with the Turbo Hydra-matic three-speed automatic got a stirrup-shaped shifter. And the optional rev-counter and clock could be combined into a gauge Chevy called the "Tick-Tock Tach."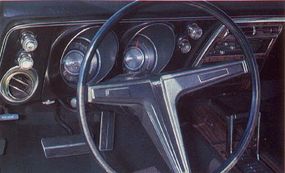 Despite stronger competition, Camaro sales increased by 14,198 units for '68 to 235,147. That still trailed Mustang overall, but Camaro was the more popular ride among performance enthusiasts, and SS models accounted for about 12 percent of its sales.
For those who wanted more than even an SS 396 could deliver, a few high-performance Chevy dealers, such as Nickey in Chicago and Baldwin in New York, were already fitting a handful of '67 and '68 Camaros with 427-cid Corvette engines. These were $6,000 Camaros, and they were devastating street machines.
Return to Classic Muscle Cars Library.
Chevy muscle cars beat at the heart of big-cube high performance. See profiles, photos, and specifications of Chevy muscle cars.
Muscle cars came in many shapes and sizes. Here are features on more than 100 muscle cars, including photos and specifications for each model.
Muscle cars created their own culture. To learn about it, read How Muscle Cars Work.
These muscle car profiles include photos and specifications for each model:
For related car information, go to these articles:
The engine is what gives a muscle car its flamboyant personality. To learn everything you need to know about car engines, see How Car Engines Work.
Muscle cars wouldn't have much muscle without horsepower -- but what exactly is horsepower? How Horsepower Works answers that question.
NASCAR race cars embody the muscle car philosophy of power. Read How NASCAR Race Cars Work to find out what makes these charged-up racers go.

Are you thinking of buying a 2007 muscle car, or any other car? See Consumer Guide Automotive's New-Car Reviews, Prices, and Information.