General Motors surrendered itself to temptation in 1970 and lifted its 400-cid limit on intermediate models. That unleashed some of the quickest automobiles ever to come out of Detroit. The 1970 Buick GSX was among them, doing its part to make this the pinnacle year for American muscle cars.
At the forefront of the rush to power was none other than Buick. Its performance offering was again based on the midsize Skylark, which got fresh styling that added two inches of body length on an unchanged wheelbase for '70. Replacing the GS 400 and its 400-cid V-8 was the GS 455, named for its new 455-cid V-8.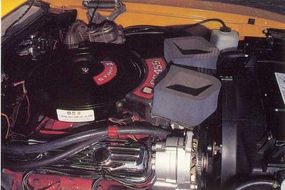 ©2007 Publications International, Ltd. Functional hood scoops fed ram air induction, and the Stage 1 version of the455-cid V-8 got a hotter cam and other tweaks to raise output from 350 bhpto 360. It produced a brutal 510 lb-ft of torque.
The new mill offered not only advantages of displacement, but had bigger valves, better heads, and a hotter camshaft. It was rated at 350 bhp. Its prodigious 510 lb-ft of torque (at a subterranean 2800 rpm) was exceeded among production cars only by Cadillac's 474- and 500-cid V-8s.
Standard on GS models were functional hood scoops that mated to dual air-cleaner intakes. For the really power hungry, Buick offered the 455 Stage I performance package. Its tweaks included a hotter cam, even larger valves with stronger springs, ported heads, and revised carburetor jetting. Torque was unchanged, and Buick slyly put horsepower at 360, but most testers said it was over 400. A bargain at just $199, the Stage I package included a Positraction 3.64:1 axle and performance modifications to the available three- and four-speed manuals and the automatic.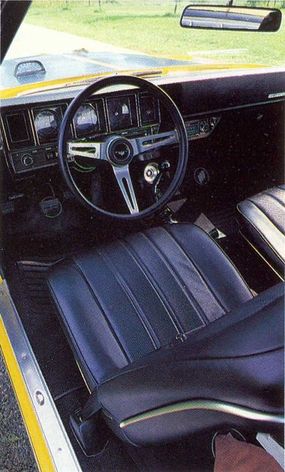 ©2007 Publications International, Ltd. The GSX option cost $1,196 and included a hood-mounted tachometer,Hurst four-speed shifter, and heavy-duty suspension.
During the model year, Buick unveiled the ultimate expression of its ultimate supercar, the GSX. It added $1,196 to the GS 455 and came in either Apollo White or Saturn Yellow set off by unique stripes and spoilers. A hood-mounted tach, Hurst-shifted four-speed, Polyglas G60xl5s on seven-inch-wide wheels, front discs, and heavy-duty suspension were included.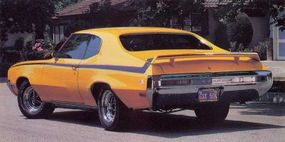 ©2007 Publications International, Ltd. Apollo White or this Saturn Yellow were the only GSX color choices.
Of 687 GSXs built, 488 were ordered with the Stage 1 upgrade, which cost $113 on a GSX. A 13.38-second pass at 105.5 mph prompted Motor Trend to crown the GS 455 Stage 1 "the quickest American production car we had ever tested." Most other magazines were in the high 13s. Any way you cut it, Buick had earned its place on muscle's all-time, all-star team.
Return to Classic Muscle Cars Library.
For more cool information on muscle cars, check out:
Buick, GM's "gentleman's car" division, was an unlikely source of some of the finest muscle cars. See profiles, photos, and specifications of Buick muscle cars.
Muscle cars came in many shapes and sizes. Here are features on more than 100 muscle cars, including photos and specifications for each model.
Muscle cars created their own culture. To learn about it, read How Muscle Cars Work.
Check out these profiles of muscle cars, which include photos and specifications for each model:
For related car information, see these articles:
The engine is what gives a muscle car its flamboyant personality. To learn everything you need to know about car engines, see How Car Engines Work.
Muscle cars wouldn't have much muscle without horsepower -- but what exactly is horsepower? How Horsepower Works answers that question.
NASCAR race cars embody the muscle car philosophy of power. Read How NASCAR Race Cars Work to find out what makes these charged-up racers go.

Are you thinking of buying a 2007 muscle car, or any other car? See Consumer Guide Automotive's New-Car Reviews, Prices, and Information.