Firebird and Camaro grew more European in nature with their second-generation redesign, but the scooped and spoilered 1970 Pontiac Firebird Trans Am was pure American muscle car, and more immodest than ever.
The 1970 Pontiac Trans Am's standard engine, the 345-horsepower Ram Air 400-cid V-8, furnished low-14-second elapsed times at the dragstrip. That apparently satisfied most buyers, because just 88 of the 3,196 Pontiac Trans Ams built that year got the optional Ram Air IV. That one added bigger ports, better heads, swirl-polished valves, and an aluminum intake manifold for 370 horsepower, 25 more than in '69. Rarer still was the Ram Air V, an over-the-counter, special-order piece that counted among its tricks solid lifters and tunnel-port heads for as much as 500 horsepower.
All these engines breathed through a new rear-facing shaker scoop designed to capture cool ambient air flowing over the hood. A four-speed transmission with Hurst shifter was standard; the Turbo Hydra-matic automatic was optional. Both came with 3.55:1 gears, and a 3.73:1 was available with the four-speed.
The 1970 Pontiac Trans Am's road manners received much attention. The padded Formula steering wheel directed quick 12.1:1 variable-ratio power steering. Stiffer springs and heavy-duty front and rear sway bars teamed with Polyglas F60X15 tires on Kelsey Hayes Rally II wheels. Standard 10.9-inch power front disc brakes and 9.5-inch rear drums did the stopping.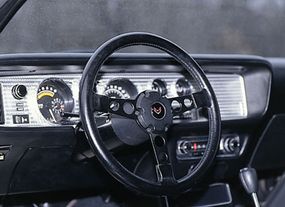 The 1970 Pontiac Trans Am wore the same impact-absorbing snout as other Firebirds, but Pontiac said its unique front air dam and fender air extractors created 50 pounds of downforce on the nose at expressway speeds. It claimed equal downforce to the tail from a big decklid lip and small spoilers in front of the rear wheels. Inside, complete instrumentation was standard and included a tachometer turned on its side to redline at 12 o'clock, just like in a real race car.
Critics were impressed. Even with 57 percent of the weight on the front wheels, Sport Car Graphic said, "Overall handling feel -- for a production car -- was as near to a front engine race car as we have ever driven." And Car and Driver called the 1970 Pontiac Trans Am "a hard muscled, lightning-flexed commando of a car, the likes of which doesn't exist anywhere in the world, even for twice the price."
Return to Classic Muscle Cars Library.
Pontiac ignited the classic muscle car era with a stroke of marketing genus. See profiles, photos, and specifications of Pontiac muscle cars.
Muscle cars came in many shapes and sizes. Here are features on more than 100 muscle cars, including photos and specifications for each model.
Muscle cars created their own culture. To learn about it, read How Muscle Cars Work.
These muscle car profiles include photos and specifications for each model:
The 1969 Hurst/Olds threw off its dapper duds for dual-snout hood scoops, gold stripes, and big rear wing.
Renamed in honor of its new engine, the 1967 Buick GS 400 was a well-kept muscle car secret.
With three carbs, 406 cubes, and 406 bhp, the 1962 Ford Galaxie 406 proved full-size Fords could fly.
The engine is what gives a muscle car its flamboyant personality. To learn everything you need to know about car engines, see How Car Engines Work.
Muscle cars wouldn't have much muscle without horsepower -- but what exactly is horsepower? How Horsepower Works answers that question.
NASCAR race cars embody the muscle car philosophy of power. Read How NASCAR Race Cars Work to find out what makes these charged-up racers go.

Are you thinking of buying a 2007 muscle car, or any other car? See Consumer Guide Automotive's New-Car Reviews, Prices, and Information.