Some muscle cars were born of racing necessity. Some, like the 1970 Ford King Cobra, were stillborn.
Ford enjoyed great success on NASCAR's high-banked oval tracks in the late 1960s. The tapered-nose, fastback 1969 Torino Talladegas and their Mercury Cyclone Spoiler II cousins had the perfect wind-cheating shape for NASCAR superspeedway racing. Their dominance goaded Chrysler to develop and produce the outrageous Dodge Charger Daytona and Plymouth Superbird. Against Chrysler's winged warriors, the Talladega and Cyclone began to lose some of their competitive edge.
Worse, Ford's new-for-1970 Torino "Sportsroof" models were not as aerodynamic as the slick '69s. Since their Mopar rivals had pulled out all the stops in the development of the Daytona and Superbird, Ford set to work on a similarly slippery droop-snout front end for its new Torino model.
Engineers added a wild, wind-cheating nose with a radically sloped hood to the stock 1970 Torino Cobra body. The headlights were tunneled into sugar-scoop cutouts in the front fenders, similar in appearance to the Datsun 240Z sports car. These cutouts were designed to be capped with headlight covers for racing, making for an even slicker profile. The grille opening was located beneath the blade-like front bumper.

©2007 Publications International, Ltd. Two or three Ford King Cobra prototypes were built,but none was ever raced and this unusual muscle carnever was produced for the public.
There was plenty of excitement about the project. The editors of Motor Trend saw fit to put the King Cobra prototype on the cover of their October 1969 issue. The accompanying story made bold -- if unsubstantiated -- claims about the machine's performance potential, and urged readers to write to Ford to express their desire to purchase a production King Cobra.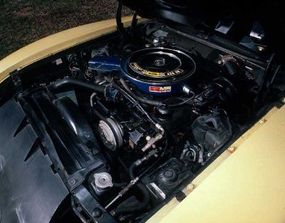 ©2007 Publications International, Ltd. Prototypes used a Cobra Jet 429 V-8 similar to the engine thatpowered production 1970 Torino Cobra muscle cars.
However, several factors conspired to kill the King Cobra before it saw production. Preliminary testing showed that the experimental King Cobra modifications caused high-speed instability, and didn't make the new car faster than its Talledega and Cyclone Spoiler forebears. Most Ford racing teams ended up sticking with their 1969 superspeedway cars for the 1970 NASCAR season.
Further, Detroit's unfettered focus on all-out performance was coming to an end. The social climate was changing, and the specter of high insurance rates and impending government regulations loomed large. Signaling the major shift in priorities, new Ford president Lee Iacocca slashed the company's racing budget by 75 percent in mid-1970. Ford dropped its factory support of NASCAR racing entirely for the 1971 season.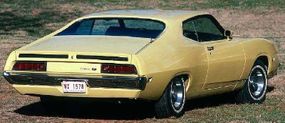 ©2007 Publications International, Ltd. The King Cobra is a reminder of how far Detroit was willingto go for racing wins, and and how quickly the muscle car market changed.
In the end, only two or three King Cobra prototypes were produced. NASCAR team owner Bud Moore bought the No.1 prototype from Ford in 1971, and has preserved it in original condition. Under the sloped hood is a Cobra Jet 429 V-8 similar to the engines that powered production 1970 Torino Cobras. This stillborn supercar is a remarkable remnant of an unrestrained era in automotive history, a time when victories at the race track were a driving force behind new product development. It's also a reminder of how fast the automotive marketplace can change.
Return to Classic Muscle Cars Library.
For more cool information on muscle cars, check out:
Some of the best all-around performance machines of the day were Ford muscle cars. See profiles, photos, and specifications of Ford muscle cars.
Muscle cars came in many shapes and sizes. Here are features on more than 100 muscle cars, including photos and specifications for each model.
Muscle cars created their own culture. To learn about it, read How Muscle Cars Work.
These muscle car profiles include photos and specifications for each model:
The 1961 Pontiac Ventura 389 was among the most stylish early muscle cars.

Fastbacks were nothing new, but none was faster than the 1966 Dodge Charger 426 Hemi.

The 1963 Plymouth 426 Wedge was so undomesticated it came with warnings not to use it on the public roads.

Any '71 Chevelle could wear a Super Sport badge, but only the 1971 Chevrolet Chevelle SS 454 earned the right to display its engine size, too.
For related car information, see these articles:
The engine is what gives a muscle car its flamboyant personality. To learn everything you need to know about car engines, see How Car Engines Work.
Muscle cars wouldn't have much muscle without horsepower -- but what exactly is horsepower? How Horsepower Works answers that question.
NASCAR race cars embody the muscle car philosophy of power. Read How NASCAR Race Cars Work to find out what makes these charged-up racers go.

Are you thinking of buying a 2007 muscle car, or any other car? See Consumer Guide Automotive's New-Car Reviews, Prices, and Information.