Some muscle cars were born of racing necessity. Some, like the 1970 Ford King Cobra, were stillborn.
Ford enjoyed great success on NASCAR's high-banked oval tracks in the late 1960s. The tapered-nose, fastback 1969 Torino Talladegas and their Mercury Cyclone Spoiler II cousins had the perfect wind-cheating shape for NASCAR superspeedway racing. Their dominance goaded Chrysler to develop and produce the outrageous Dodge Charger Daytona and Plymouth Superbird. Against Chrysler's winged warriors, the Talladega and Cyclone began to lose some of their competitive edge.
Worse, Ford's new-for-1970 Torino "Sportsroof" models were not as aerodynamic as the slick '69s. Since their Mopar rivals had pulled out all the stops in the development of the Daytona and Superbird, Ford set to work on a similarly slippery droop-snout front end for its new Torino model.
Engineers added a wild, wind-cheating nose with a radically sloped hood to the stock 1970 Torino Cobra body. The headlights were tunneled into sugar-scoop cutouts in the front fenders, similar in appearance to the Datsun 240Z sports car. These cutouts were designed to be capped with headlight covers for racing, making for an even slicker profile. The grille opening was located beneath the blade-like front bumper.

There was plenty of excitement about the project. The editors of Motor Trend saw fit to put the King Cobra prototype on the cover of their October 1969 issue. The accompanying story made bold -- if unsubstantiated -- claims about the machine's performance potential, and urged readers to write to Ford to express their desire to purchase a production King Cobra.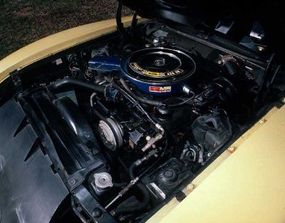 However, several factors conspired to kill the King Cobra before it saw production. Preliminary testing showed that the experimental King Cobra modifications caused high-speed instability, and didn't make the new car faster than its Talledega and Cyclone Spoiler forebears. Most Ford racing teams ended up sticking with their 1969 superspeedway cars for the 1970 NASCAR season.
Further, Detroit's unfettered focus on all-out performance was coming to an end. The social climate was changing, and the specter of high insurance rates and impending government regulations loomed large. Signaling the major shift in priorities, new Ford president Lee Iacocca slashed the company's racing budget by 75 percent in mid-1970. Ford dropped its factory support of NASCAR racing entirely for the 1971 season.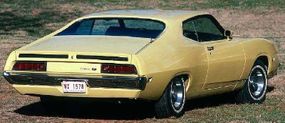 In the end, only two or three King Cobra prototypes were produced. NASCAR team owner Bud Moore bought the No.1 prototype from Ford in 1971, and has preserved it in original condition. Under the sloped hood is a Cobra Jet 429 V-8 similar to the engines that powered production 1970 Torino Cobras. This stillborn supercar is a remarkable remnant of an unrestrained era in automotive history, a time when victories at the race track were a driving force behind new product development. It's also a reminder of how fast the automotive marketplace can change.
Return to Classic Muscle Cars Library.