The bloom was off the performance rose by 1971, especially at General Motors, and it took a determined assault on the order sheet to come up with a muscle car worthy of the name. Luckily, Oldsmobile still identified its strongest 4-4-2 by a single option code, W-30. So the muscle car era lived on for another year with the help of the 1971 Oldsmobile 4-4-2 W-30.
Except for new grille and taillamp inserts, the 4-4-2 was essentially unaltered from 1970, though the pillared coupe body was dropped. Bigger changes were underhood, where GM's ruling that all its cars reduce emissions and run on regular-grade fuel caused a compression-ratio cut in the 4-4-2's 455-cid V-8.
What was 10.5:1 became 8.5:1, a drop Motor Trend said "was rather like hitting Dr. Oldsmobile with a malpractice suit. But there's still some soul left in Lansing, and despite all the furor, a 4-4-2 will still churn up all the smoke and fury the average muscle car driver could need and probably handle."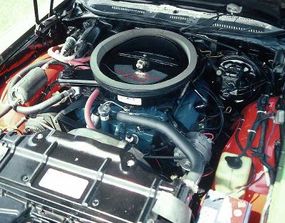 That certainly was true of a W-30. Regular 4-4-2 mills lost not only compression, but got a milder camshaft and some other detuning that dropped them to 340 bhp, from 365 (both gross ratings). W-30s again were factory blueprinted and those used with manual transmission re-tained the hotter 1970 cam. Aluminum intake manifold, low restriction air cleaner and exhaust system, and air-induction hood continued as components of the $369 W-30 option. Gross output fell slightly less than on the base engine, to 350 bhp from 370.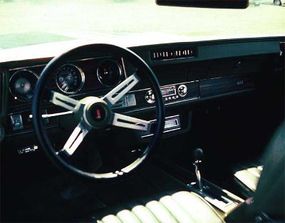 Olds also began listing net output with all accessories in place. The regular 4-4-2 came in at 270 bhp, the W-30 at 300. That seemed tame compared to the giddy figures of just a year earlier, but in reality, net ratings more accurately reflected power available at the driving wheels. It also was true that torque, the most vital factor in acceleration, remained abundant.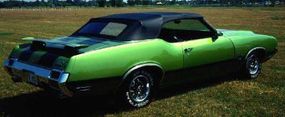 But the decline in performance was unstoppable. The W-30 setup associated with blueprinted engines and banzai hole shots would last only through '72, though the name appeared on enthusiast-oriented Oldsmobiles for years to come. The 4-4-2 itself reverted to a Cutlass option after '71. "There's always been something special about 4-4-2s," Motor Trend said as the car was fading. "They seemed to be the subtle man's GTO...."
Return to Classic Muscle Cars Library.