The engine most identified with Pontiac's proud Super Duty label was the 421-cid V-8. It was an incredibly powerful muscle car engine -- the 1962 Pontiac Catalina Super Duty 421 was proof of that.
Hand-built in a special factory tool room, the first Super Duty 421s debuted late in 1961 as race-only engines. Pontiac was vague on their output, but estimates ranged from 373 to 405 bhp. These were the largest-displacement mills offered at the time, and they helped spark Detroit's cubic-inch war.
NHRA rules changes for '62 required engines and body parts for the stock classes to be production pieces. This forced the 421 onto the official equipment sheet as an expensive, limited-run option. Fewer than 180 were built for '62, its peak production year. Most went into Catalinas, though 16 or so were installed in Pontiac's new personal-luxury coupe, the Grand Prix.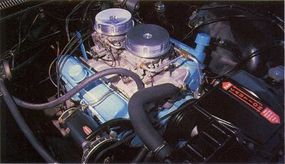 The '62 Super Duty 421 was officially rated at 405 bhp, but real output was closer to 460. Though street-legal, these again were race-ready engines, with four-bolt mains, forged rods and crank, solid lifters, and NASCAR heads. Stock-car-racing versions used a single four-barrel, but street/strip Super Duty 421s had twin Carter 500-cfm four-barrels and an aluminum intake manifold.
Free-flow cast-iron headers were fitted with easily removable exhaust dumps. Only three- and four-speed manuals were offered; Pontiac's automatic wasn't strong enough.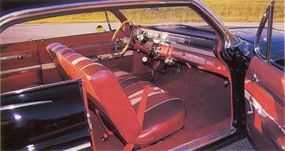 Reinforcing the division's hard-nosed performance attitude were a host of Super Duty options, including aluminum front-end body clips and a weight-cutting modified frame (the famous drilled "Swiss Cheese" frames wouldn't come until '63). These saved about 110 pounds. To shave another 40 pounds, the factory would fit aluminum exhaust manifolds. They were intended only for quarter-mile competition; Pontiac warned that subjected to more heat, the headers would melt.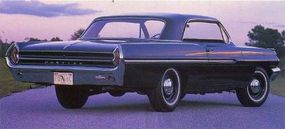 Super Duty 421 Catalinas were fearsome muscle cars on the street, and could dip into the 13s at more than 100 mph in the quarter -- superior numbers for a regular-production car of the day.
Return to Classic Muscle Cars Library.
For more cool information on muscle cars, check out:
Pontiac ignited the classic muscle car era with a stroke of marketing genius. See profiles, photos, and specifications of more Pontiac muscle cars.
Muscle cars came in many shapes and sizes. Here are features on more than 100 muscle cars, including photos and specifications for each model.
Muscle cars created their own culture. To learn about it, read How Muscle Cars Work.
Check out these profiles of muscle cars, which include photos and specifications for each model:
For related car information, see these articles:
The engine is what gives a muscle car its flamboyant personality. To learn everything you need to know about car engines, see How Car Engines Work.
Muscle cars wouldn't have much muscle without horsepower -- but what exactly is horsepower? How Horsepower Works answers that question.
NASCAR race cars embody the muscle car philosophy of power. Read How NASCAR Race Cars Work to find out what makes these charged-up racers go.

Are you thinking of buying a 2007 muscle car, or any other car? See Consumer Guide Automotive's New-Car Reviews, Prices, and Information.