Pontiac poured on so much muscle car performance for '63 that only an order from the highest power could slow it down. Unfortunately, that's what happened with the 1963 Pontiac Super Duty 421.
Super Duty 421s were back, tougher than ever. Compression jumped from 11.0:1 to 12.0:1, while other tweaks increased maximum shift points by 500 rpm, to a screaming 6400 rpm. The four-barrel version, set up for sustained high speeds, had 390 hp. The dual-quad drag variant -- now with aluminum exhaust manifolds standard and steel manifolds optional -- was again underrated at 405 hp. A second dual-quad drag rendition was introduced with a 13.0:1 squeeze. Pontiac timidly rated it at 410 hp.
Factory weight-cutting again included aluminum front-end pieces and was joined by the famous Swiss Cheese frames, which had grapefruit-sized holes drilled into the chassis rails.
Super Duty 421s came only with a Hurst shifted three- or four-speed manual. Axle ratios up to 4.44:1 were offered. Dealers were advised to warn customers to maintain a minimum idle speed of 1000 rpm to insure adequate lubrication; that the engine would be cantankerous in cold weather, noisy all the time, and expensive to run; and that the large-capacity oil pan reduced ground clearance.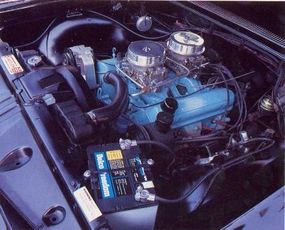 For those unwilling to take the Super Duty plunge, Pontiac introduced two new 421s that were more streetable. These High Output 421s had 10.75:1 compression and 353 hp with a four-barrel or 370 hp with three two-barrels.
Big Ponchos got new sheetmetal for '63, highlighted by trend-setting stacked headlamps. Pontiac was a force on the street and strip, while in NASCAR, it fought to retain its crown against the brutal new 427-cid Chevrolets.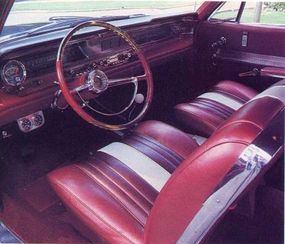 It was all too much for GM. In January 1963, the corporation withdrew from organized racing and killed the Super Duty engines. Just 88 '63 Super Duty V-8s made it out the door, but Pontiac was poised to open a new performance frontier.
Return to Classic Muscle Cars Library.
For more cool information on muscle cars, see:
Pontiac ignited the classic muscle car era with a stroke of marketing genus. See profiles, photos, and specifications of Pontiac muscle cars.
Muscle cars came in many shapes and sizes. Here are features on more than 100 muscle cars, including photos and specifications for each model.
Muscle cars created their own culture. To learn about it, read How Muscle Cars Work.