The Big Bang in the evolution of modern muscle cars is the 1964 Pontiac Tempest GTO. This is where it began: a midsize automobile with a big, high-power V-8 marketed as an integrated high-performance package -- the very definition of the muscle car.
To create the GTO, Pontiac sidestepped GM's prohibition on intermediate-sized cars having engines over 330 cid. In a ploy that didn't require corporate approval, Pontiac made its 389-cid V-8 part of a $296 option package for the new Tempest. The name Gran Turismo Omologato was boldly appropriated from the Ferrari GTO. Roughly translated, it means a production grand touring machine sanctioned for competition.
Pontiac hoped to sell 5,000 '64 GTOs; it sold 32,450. The Goat, as it was affectionately dubbed, generated a cult following and sent rivals scrambling to come up with similar machines.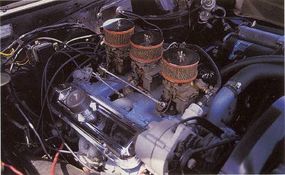 To create an engine worthy of its original, Pontiac fortified the 389 with a high-lift cam and the 421-cid V-8's high-output heads. The GTO had 325 bhp with the standard Carter four-barrel. About 8,250 of the cars were ordered with the extra-cost Tri-Power setup -- three Rochester two-barrels -- and were rated at 348 bhp. Both versions had 10.75:1 compression and 428 lb-ft of torque. The standard three-speed manual and optional four-speed used Hurst linkages; a two-speed automatic also was optional.
A thick front sway bar, heavy-duty shocks, stiffened springs, and high-speed 14-inch tires were included. A $75 "roadability group" added sintered metallic brake linings and a limited-slip diff. The sporting attitude carried over inside, where all GTOs got bucket seats and an engine-turned aluminum instrument surround.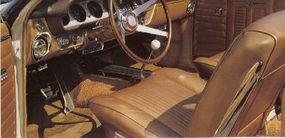 Four-barrel Goats typically ran 0-60 mph in about 7.5 seconds and the quarter in 15.7 at 92 mph. Tri-Power GTOs were consistently quicker and added immeasurably to the car's mystique.
Return to Classic Muscle Cars Library.
Pontiac ignited the classic muscle car era with a stroke of marketing genius. See profiles, photos, and specifications of Pontiac muscle cars.
Muscle cars came in many shapes and sizes. Here are features on more than 100 muscle cars, including photos and specifications for each model.
Muscle cars created their own culture. To learn about it, read How Muscle Cars Work.
These muscle car profiles include photos and specifications for each model:
For related car information, go to these articles:
The engine is what gives a muscle car its flamboyant personality. To learn everything you need to know about car engines, see How Car Engines Work.
Muscle cars wouldn't have much muscle without horsepower -- but what exactly is horsepower? How Horsepower Works answers that question.
NASCAR race cars embody the muscle car philosophy of power. Read How NASCAR Race Cars Work to find out what makes these charged-up racers go.

Are you thinking of buying a 2007 muscle car, or any other car? See Consumer Guide Automotive's New-Car Reviews, Prices, and Information.