In 1964, Oldsmobile needed an answer to the Pontiac GTO, and it came in the form of the Cutlass 4-4-2. A case can be made that the very first muscle car was the 1949 Oldsmobile Rocket 88, created when Olds shoehorned its 135-bhp big-car V-8 into a midsize model. When Pontiac rejuvenated the concept with its 1964 Tempest GTO, Olds was compelled to respond.
It took until midyear, at which time Olds extended its Police Apprehender Pursuit package to its new intermediate-sized F-85/Cutlass series, which shared the Tempest /LeMans chassis.
The package used the top engine available in these Oldsmobiles, a 290-bhp 330-cid V-8, then added a high-lift cam, dual-snorkel air cleaner, and some other minor tweaks to come up with 310 bhp. The engine's four-barrel carb, in combination with the package's Chevy-built Muncie four-speed manual and the car's dual exhausts, gave the new option its name, 4-4-2.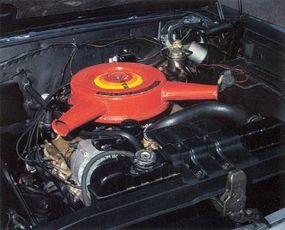 Offered on any body style except the station wagon, the 4-4-2 package added $285 to an F-85 or $136 to the uplevel Cutlass. It included a heavy-duty suspension with anti-roll bars front and rear, plus "tiger paw" tires. Balanced manners were a goal from the start and some road testers called this new Oldsmobile the best-handling midsize car in the GM stable.
With the standard 2.54:1 axle ratio, a Cutlass 4-4-2 turned a respectable 15.6-second quarter-mile at 89 mph for Car Life. By comparison, a 290-bhp Cutlass was two seconds slower to 60 mph and 1.3 seconds slower in the quarter-mile.
But where Pontiac successfully pitched its GTO to the youth market as a factory hot rod, Olds was more tentative in promoting its new muscle car; one of the few advertisements pictured a couple of cops in a four-door F-85 sedan that didn't even wear the tri-color 4-4-2 badge. Performance buffs just weren't used to looking at Olds, and only 2,999 4-4-2s were sold this first season. Pontiac, by contrast, moved more than 32,000 GTOs in '64.
Return to Classic Muscle Cars Library.
No muscle cars were more stylish, sophisticated, or brawnier than those from Oldsmobile. See profiles, photos, and specifications of Oldsmobile muscle cars.

Muscle cars came in many shapes and sizes. Here are features on more than 100 muscle cars, including photos and specifications for each model.
Muscle cars created their own culture. To learn about it, read How Muscle Cars Work.
These muscle car profiles include photos and specifications for each model:
The engine is what gives a muscle car its flamboyant personality. To learn everything you need to know about car engines, see How Car Engines Work.
Muscle cars wouldn't have much muscle without horsepower -- but what exactly is horsepower? How Horsepower Works answers that question.
NASCAR race cars embody the muscle car philosophy of power. Read How NASCAR Race Cars Work to find out what makes these charged-up racers go.

Are you thinking of buying a 2007 muscle car, or any other car? See Consumer Guide Automotive's New-Car Reviews, Prices, and Information.