When General Motors authorized engines up to 400 cid in its intermediate cars, Buick seized the chance to create its first muscle car, the 1965 Buick Skylark Gran Sport.
In actuality, the division's big-block V-8 displaced 401 cubic inches. Undeterred, Buick simply renamed it the "400." Teamed with a heavy-duty radiator and dual-exhausts, the 401 carried the same 325-bhp rating as in Buick's full-size models. ("Wildcat 445" on the air cleaner referred to the engine's torque rating.)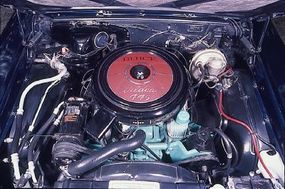 To Buick's credit, the operation was more than just an engine transplant. Any 1965 Buick Skylark Gran Sport -- hardtop, pillared coupe, or convertible -- got the convertible's beefed-up frame for better rigidity, plus specially valved shocks and heavy-duty springs. Buick added a thick anti-roll bar up front and enhanced the rear suspension with added links to fight axle windup and differential twist. Braking improved with enlarged front-wheel cylinders.
With the standard three-speed manual, the Gran Sport package added $253 to the cost of a regular Skylark. It jumped to $420 with the four-speed manual and to $457 with Buick's two-speed Super Turbine 300 automatic. The top available axle ratio was 3.73:1.

All 1965 Buick Skylark Gran Sports had to be ordered with bucket seats, a $72 "mandatory option." Positraction should have been mandatory, too. As with other high-powered intermediates, wheel spin off the line was a problem.
But buyers were happy. This was a solid car with a smooth, responsive engine; good ride quality; and competent handling. Motor Trend remarked that its 12.3 mpg in city driving was "not bad at all."
Nearly 70,000 1965 Buick Skylark Gran Sports were sold, and no one seemed to mind that it wasn't an all-out muscle car -- that would come soon enough.
Return to Classic Muscle Cars Library.
For more cool information on muscle cars, see:
Buick, GM's "gentleman's car" division, was an unlikely source of some of the finest muscle cars. See profiles, photos, and specifications of Buick muscle cars.
Muscle cars came in many shapes and sizes. Here are features on more than 100 muscle cars, including photos and specifications for each model.
Muscle cars created their own culture. To learn about it, read How Muscle Cars Work.
These muscle car profiles include photos and specifications for each model:
For related car information, go to these articles:
The engine is what gives a muscle car its flamboyant personality. To learn everything you need to know about car engines, see How Car Engines Work.
Muscle cars wouldn't have much muscle without horsepower -- but what exactly is horsepower? How Horsepower Works answers that question.
NASCAR race cars embody the muscle car philosophy of power. Read How NASCAR Race Cars Work to find out what makes these charged-up racers go.

Are you thinking of buying a 2007 muscle car, or any other car? See Consumer Guide Automotive's New-Car Reviews, Prices, and Information.