Chevelle's climb to muscle car stardom began with a couple of mid-1965 maneuvers to recapture lost ground. The result was the 1965 Chevrolet Chevelle SS 396.
Chevelle had entered its second year with some minor appearance changes inside and out, but Chevrolet again found itself chasing Pontiac, Oldsmobile, and even Buick in midsize performance.
While the GTO, 4-4-2, and Skylark Gran Sport had large-displacement V-8s for '65, Chevelle stayed loyal to small-block power. No apologies were needed for Chevy's excellent 327, especially in new 350-bhp tune. Available at midyear, the L79 327 was essentially a hydraulic-lifter version of Corvette's 365-bhp 327. With the mandatory four-speed and a Positraction 3.31:1 rear axle, an L79 Malibu Super Sport could turn quarter-miles in the high 14s.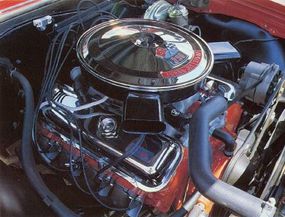 But the bow tie guys had seen the future, and it was genuine big-cube go in an intermediate-sized package. Their reaction was another midyear addition, this one a limited-edition option that found its way into just 200 Malibu SS hardtops and one convertible. Tagged the Z-16 package, it retailed for $1,501 and was built around a hot 375-bhp 396-cid V-8.
Again, this Turbo-Jet 396 was basically a hydraulic-lifter variant of the 425-bhp 396 available in the Corvette. But in creating the Malibu SS 396, Chevy strengthened the Chevelle with a stouter convertible-type frame, a beefed-up front suspension, anti-roll bars front and rear, bigger brakes, and faster power-assisted steering.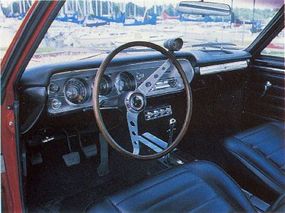 A Muncie four-speed was mandatory, with axle ratios as high as 4.56:1 available as an alternative to the standard 3.31:1 gears. Rounding out the Z-16 package was a 160-mph speedometer, a 6000-rpm tach, and an AM/FM stereo radio.
With 58 percent of its weight over the front axle, a Malibu SS 396 floundered through corners, but its mid-14-second quarter-mile times at around 100 mph were very strong for 1965. Super Sport Production peaked this year, accounting for 101,577 of the 326,977 Chevelles built. None was rarer or more rapid than the Z-16.
Return to Classic Muscle Cars Library.
Chevy muscle cars beat at the heart of big-cube high performance. See profiles, photos, and specifications of Chevy muscle cars.
Muscle cars came in many shapes and sizes. Here are features on more than 100 muscle cars, including photos and specifications for each model.
Muscle cars created their own culture. To learn about it, read How Muscle Cars Work.
These muscle car profiles include photos and specifications for each model:
The engine is what gives a muscle car its flamboyant personality. To learn everything you need to know about car engines, see How Car Engines Work.
Muscle cars wouldn't have much muscle without horsepower -- but what exactly is horsepower? How Horsepower Works answers that question.
NASCAR race cars embody the muscle car philosophy of power. Read How NASCAR Race Cars Work to find out what makes these charged-up racers go.

Are you thinking of buying a 2007 muscle car, or any other car? See Consumer Guide Automotive's New-Car Reviews, Prices, and Information