Buick's Skylark got fresh sheetmetal for 1966, and there was more available power for the Gran Sport. But competition was tougher than ever, and sales of the 1966 Buick Skylark Gran Sport, an upscale muscle car, skidded dramatically from the model's first season in 1965.
Highlighting the new look were sloping sail panels that extended the rear roofline beyond the back window. Distinguishing the Gran Sport were a blacked-out grille, new GS emblems, nonfunctional rear-facing hood scoops, and simulated front-fender vents.
The base 401-cid "Wildcat 445" four-barrel again had 325 bhp, but a hotter 340-bhp version was made available during the model year. Dual exhausts and heavy-duty suspension were included as standard equipment with either engine. Metallic brake linings and a rear stabilizer bar were among the options.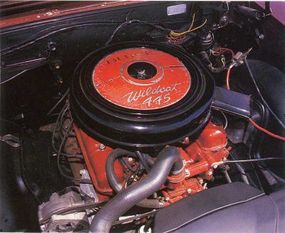 A three-speed manual came with either version of the 401; a four-speed added $184, and Super Turbine automatic cost $205. Half-a-dozen axle ratios, from 2.78:1 to 4.30:1 were now offered, and a Positive Traction diff was a mandatory option with the performance cogs. Handsome $74 chrome-plated wheels were popular options, as were power steering ($95) and power brakes ($42). Buick would even delete the heater for a $71 credit.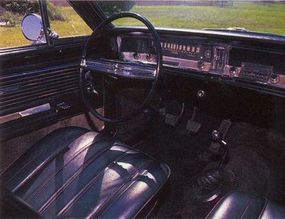 The 340-bhp engine was tuned to run, redlining at 4600 rpm and making a peak 445 lb-ft of torque at 3200. It was nearly a second quicker to 60 mph than the base engine, and about a half-second faster in the quarter-mile. With the 3.36:1 axle, a 340-bhp GS got to 60 mph in 6.8 seconds and turned 14.9-second ETs at 95 mph.
It wasn't the fastest big-cube intermediate, but reviewers again lauded the Gran Sport's balanced nature. At $2,956 for the pillared coupe, and $3,019 for the Sport Coupe, and $3,167 for the convertible, however, base prices were higher than those of 4-4-2s and GTOs. Buick built 106,217 Skylarks for '66; just 13,816 of them were Gran Sports.
Return to Classic Muscle Cars Library.