Chevy repositioned its Super Sport Chevelle as an all-out performance muscle car for '66, but in some ways, more turned out to be less in the Chevelle SS 396.
Classic Muscle Car Image Gallery
Like other GM intermediates, it was reskinned, though dimensions hardly changed. SS models got a blackout grille and a new hood with nonfunctional vents. With engines of around 400 cid now obligatory in this game, Chevy made the 396-cid V-8 standard, so all its midsize muscle cars were now Chevelle SS 396s.
But instead of the 375-bhp Z-16 396 that bowed midway through the '65 model year, the '66s got detuned 396s rated at 325 bhp in base Turbo-Jet guise and 360 bhp in optional L34 form. Both new mills had 10.25:1 compression, but the L34 got a taller cam, stronger block, and larger four-barrel. It cost $105 extra and nearly one-third of SS 396 buyers ordered it. Still, the L34's mid 15s at around 90 mph in the quarter were pretty ordinary.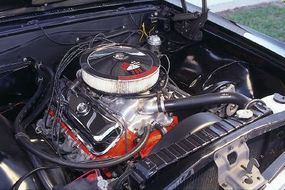 So was much of the rest of the car, at least compared to the pricey, limited-edition Z-16. Instead of reinforced brakes and underpinnings, the '66 SS 396 used standard Chevelle brakes and suspension pieces. Chevy claimed it had stiffer springs and shocks -- an assertion some testers disputed once they experienced the car's wayward handling and subpar stopping ability. In fairness, comfortable seats, tractable engines, sporty styling, and a $2,776 base price made the '66 SS 396 a great daily driver.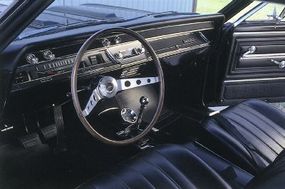 Then, in the spring, Chevy released the L78 396. This was essentially an updated Z-16, but with solid lifters and new exhaust manifolds. It had the 427-cid V-8's large-valve heads, plus 11.0:1 compression, aluminum intake manifold, and an 800-cfm Holley. The L78 echoed the Z-16's 375-bhp rating and was the 396 that hard-core Chevy street warriors had hoped all the '66s would be. Only about 3,100 L78s were built. But even the base Chevelle SS was now a genuine big-block muscle car, and the best was yet to come.
Return to Classic Muscle Cars Library.
Chevy muscle cars beat at the heart of big-cube high performance. See profiles, photos, and specifications of Chevy muscle cars.
Muscle cars came in many shapes and sizes. Here are features on more than 100 muscle cars, including photos and specifications for each model.
Muscle cars created their own culture. To learn about it, read How Muscle Cars Work.
These muscle car profiles include photos and specifications for each model:
For related car information, go to these articles:
The engine is what gives a muscle car its flamboyant personality. To learn everything you need to know about car engines, see How Car Engines Work.
Muscle cars wouldn't have much muscle without horsepower -- but what exactly is horsepower? How Horsepower Works answers that question.
NASCAR race cars embody the muscle car philosophy of power. Read How NASCAR Race Cars Work to find out what makes these charged-up racers go.

Are you thinking of buying a 2007 muscle car, or any other car? See Consumer Guide Automotive's New-Car Reviews, Prices, and Information.