Recognizing the GTO's growing popularity, Pontiac promoted it from a Tempest option to a full-fledged model for '66. The Goat rewarded Pontiac with sales of 96,946 units, the highest one-year total ever attained by a true muscle car.
Credit for its success was twofold. Other GM divisions had copied the GTO with hotter versions of their intermediates, but like Ford's new Fairlane GT, none captured the Goat's all-around appeal. Mopar had the performance, but no special muscle models. And while all GM midsize cars were restyled for '66, none matched the beauty of the GTO's voluptuous new Coke-bottle contours.
Wheelbase was untouched, and overall length and curb weights changed negligibly. But styling highlights included a graceful new roofline and cool fluted taillamps. The unique GTO grille had mesh-pattern inserts made of plastic -- an industry first.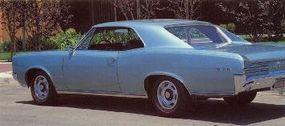 The standard hood scoop remained nonfunctional, but Tri-Power engines could again get an over-the-counter fresh-air kit, and a few were equipped with the Goat's first factory Ram Air. A small number of GTOs were ordered with a boss new option: weight-reducing red plastic inner fender liners. Inside, the new instrument-surround was genuine wood.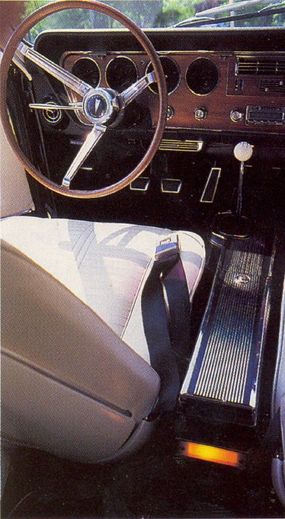 The four-barrel 389 continued at 335 bhp. The $113 triple-two-barrel had 360 bhp (with or without Ram Air), but production ceased at midyear when GM outlawed multicarb engines for all but the Corvette. Three- and four-speed manuals and a two-speed automatic could be had with factory axles spanning 3.08:1 to 4.33:1.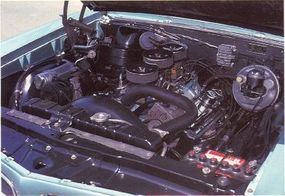 Car Life's four-speed four-barrel with 3.08 gears and air conditioning ran a 15.4 quarter at 92 mph and got 12.4 mpg. The magazine said the lightly loaded rear wheels of its nose-heavy test car would "skitter and skip on anything but the driest pavement." Braking power was poor, but the shifter was sweet, the motor willing, and assembly quality high. That, and that beautiful new body, obviously was the formula for success in '66.
Return to Classic Muscle Cars Library.
Pontiac ignited the classic muscle car era with a stroke of marketing genius. See profiles, photos, and specifications of Pontiac muscle cars.
Muscle cars came in many shapes and sizes. Here are features on more than 100 muscle cars, including photos and specifications for each model.
Muscle cars created their own culture. To learn about it, read How Muscle Cars Work.
These muscle car profiles include photos and specifications for each model:
For related car information, go to these articles:
The engine is what gives a muscle car its flamboyant personality. To learn everything you need to know about car engines, see How Car Engines Work.
Muscle cars wouldn't have much muscle without horsepower -- but what exactly is horsepower? How Horsepower Works answers that question.
NASCAR race cars embody the muscle car philosophy of power. Read How NASCAR Race Cars Work to find out what makes these charged-up racers go.

Are you thinking of buying a 2007 muscle car, or any other car? See Consumer Guide Automotive's New-Car Reviews, Prices, and Information.