The Sports Car Club of America's Trans American sedan series was the premier racing showcase for pony cars in the late '60s, and Chevy had to score there to hurt the entrenched Mustang. The 1967 Chevrolet Camaro Z28, a muscle car that emphasized handling as much as power, helped Chevy score.
Trans Am racers were production-based cars with engines of 305 cid or less. Chevy worked a forged steel version of the 283-cid V-8's crankshaft into its 327 V-8 to get 302 cid. Big-port Corvette heads, solid lifters, a hot cam, a baffled oil pan, and a Holley four-barrel on a tuned aluminum manifold were specified. Horsepower was rated at 290; it likely was closer to 360.
At least 1,000 streetable examples had to be produced, and Chevy's tack was to make the 302 part of a Camaro Regular Production Option Code. So low-key was the effort that the car wasn't advertised, or even mentioned in sales literature. The knowledgeable buyer had to order a base 6-cylinder Camaro ($2,466), then scan the order sheet for what turned out to be the most famous RPO in history: Z28.
The package cost $400 and included the 302, the F-41 handling suspension, 15-inch tires on Corvette six-inch Rally wheels, and quick-ratio manual steering. A Muncie four-speed was the only transmission; power front disc brakes were a mandatory $100 option.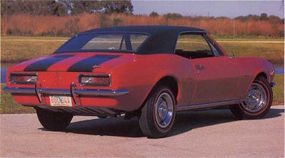 RPO Z28 was available on the coupe only and could be combined with the hidden-headlamp RS option group. There were no Z28 emblems on the car, but the package did include broad racing stripes on the hood and trunklid. Camaro's rear lip spoiler was a popular option.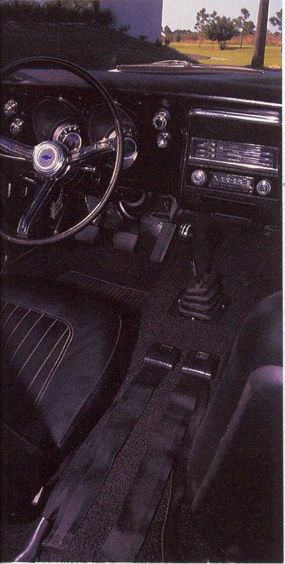 The Z28 had a buckboard ride and sports-car handling. The 302 was a peaky devil, hard to launch and lethargic under 4000 rpm. Driven as it was meant to be, performance was shattering. Road & Track settled on 7500 rpm (!) as the optimal shift point and reported 63 mph in first gear, 85 in second, and 113 in third. Top speed approached 140 mph. "If the Z-28 isn't a bona fide racing car," said the magazine, "then we've never seen one."
Return to Classic Muscle Cars Library.