The Chevrolet Chevelle SS 396 took several steps forward and a couple steps back for 1967.
Advancements in this muscle car came mainly in road manners and driveability. Replacing the standard rayon two-ply 7.75x14 tires were lower-profile F70X14s with nylon belts. Grip and steering response improved, and the car felt more secure in changes of direction. The Wide Ovals also helped get the most out of the newly available front disc brakes, a $79 option that enhanced stopping power and pedal modulation. Accompanying the discs were purposeful-looking new 14-inch slotted wheels.
A three-speed manual was again the standard transmission, with a four-speed costing $105 more. The two-speed Powerglide automatic returned as a $116 extra, but for the first time, the three-speed Turbo Hydra-matic was offered. It cost $231 and was a quantum leap over the Powerglide, particularly in its ability to kick down promptly for better passing response.
Federal safety regulations brought an energy-absorbing steering column and padded instrument-panel surfaces, but the dashboard still was boring compared to, say, the GTO's. At least the optional tach was relocated from just above the driver's right knee to left of the steering wheel. Exterior changes were minor, with a slightly reworked bumper and grille and a blackout tail panel. The hood louvers remained nonfunctional.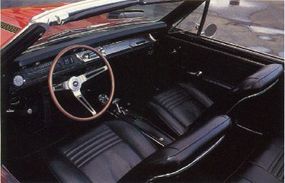 A 325-bhp version of the 396-cid V-8 was again standard, but the $105 L34 upgrade lost 10 bhp, to 350, because of GM's new edict against any car but Corvette having more than 1 bhp per 10 pounds of curb weight. In a second underhood reversal, the 375-bhp L78 was no longer listed in sales brochures but did remain a $476 dealer-installed conversion fitted into 612 cars.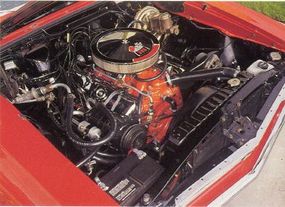 All in all, Chevy had improved the SS 396. And with prices starting at $2,825 for the coupe and $3,033 for the ragtop -- just about $285 more than comparable Malibu models -- it was affordable, too.
Return to Classic Muscle Cars Library.
Chevy muscle cars beat at the heart of big-cube high performance. See profiles, photos, and specifications of Chevy muscle cars.
Muscle cars came in many shapes and sizes. Here are features on more than 100 muscle cars, including photos and specifications for each model.
Muscle cars created their own culture. To learn about it, read How Muscle Cars Work.
These muscle car profiles include photos and specifications for each model:
For related car information, go to these articles:
The engine is what gives a muscle car its flamboyant personality. To learn everything you need to know about car engines, see How Car Engines Work.
Muscle cars wouldn't have much muscle without horsepower -- but what exactly is horsepower? How Horsepower Works answers that question.
NASCAR race cars embody the muscle car philosophy of power. Read How NASCAR Race Cars Work to find out what makes these charged-up racers go.

Are you thinking of buying a 2007 muscle car, or any other car? See Consumer Guide Automotive's New-Car Reviews, Prices, and Information.