One of the toughest little overachievers ever to harass traditional midsize muscle cars was the 1967 Chevrolet Chevy II Nova SS. Never a style leader, this was the compact for the serious enthusiast who wanted to go fast on guile and light weight.
The Chevy II bowed for 1962, with Nova its deluxe edition. Super Sport standing came the following year as part of a trim package, and by '65, a 300-bhp 327-cid V-8 was available. A redesign for '66 replaced the nerdy box shape with huskier contours. Super Sports were back as two-door hardtops with bucket seats and a pair of 327s: One had 275 bhp; the other was Chevy's killer 350-bhp variant, the L79.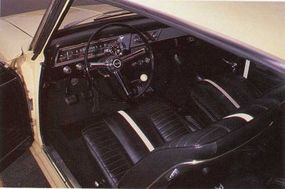 When the Nova SS returned for '67, a base price of just $2,683 landed the 275-bhp 327, but the L79 was not listed as an official factory offering. A handful did make it into the '67s, however, bringing the two-year run to about 2200 L79 Chevy IIs. Besides Super Sports, the engine also went into Novas and base Chevy IIs.
These were the guerrilla fighters of the muscle jungle. A low profile and a high power-to-weight ratio were their secret. The Super Sport edition had some extra chrome, blackout trim details, and small SS emblems. But even with the slotted wheels of the '67 disc-brake option, a Nova SS by no means shouted "hot car." Hooked to the mandatory four-speed manual transmission and carrying just 10 pounds per bhp, the tough L79 would quickly wind to near 6000 rpm, catching the big-cube glamour boys napping.
'"The 350-bhp 327 in approximately Corvette tune, dropped into a Chevy II, didn't have the jukebox magic of a 409 or a 427," reminisced Car and Driver's Patrick Bedard in his 1990 ranking of the best all-time street racers. "Still, that combination made for one the sneakiest muscle cars ever built... You might not notice a Chevy II in traffic until he got half a car-length on you. Even in a boss machine, you might have to run 80 or 90 mph to get it back. That's how fast those Chevy IIs were."
Return to Classic Muscle Cars Library.
For more cool information on muscle cars, see:
Chevy muscle cars beat at the heart of big-cube high performance. See profiles, photos, and specifications of Chevy muscle cars.
Muscle cars came in many shapes and sizes. Here are features on more than 100 muscle cars, including photos and specifications for each model.
Muscle cars created their own culture. To learn about it, read How Muscle Cars Work.