Sometimes packaging could make all the difference for a muscle car. This certainly was the case for the 1967 Dodge Coronet R/T Hemi.
Dodge's midsize Coronet was given handsome new styling for '66 and could be armed with devastating power. But to casual eyes, the modest "426 Hemi" fender badge was all that separated it from grandpa's grocery-getter.
Dodge remedied that for '67, introducing a new model whose initials stood for Road and Track. Without disturbing the Coronet's clean lines, the R/T added enough performance cues to make its meaning clear. It got an exclusive Charger-inspired grille with exposed headlamps, plus modest nonfunctional hood slats and small R/T emblems.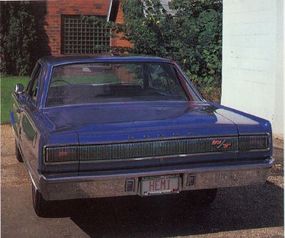 The sporty theme continued inside with standard bucket seats (though a tach was a $50 extra). Underneath, the R/T was all business: The suspension had heavy-duty everything -- even ball joints -- while the standard 11-inch police-spec drum brakes could be augmented by a $70 front-disc option.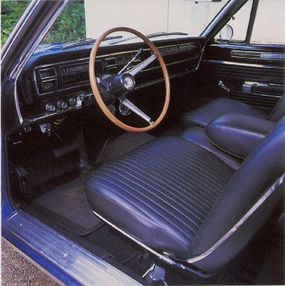 Included in the $3,199 base price of the R/T hardtop or the $3,438 convertible was Chrysler's largest engine, the 440-cid V-8, here tweaked to 375 bhp and christened the Magnum. The only engine option was the 426-cid Hemi, now in its second year in "Street" trim and again rated at 425 bhp. It added $908. Transmission choices were Mopar's excellent heavy-duty three-speed TorqueFlite automatic or a four-speed manual.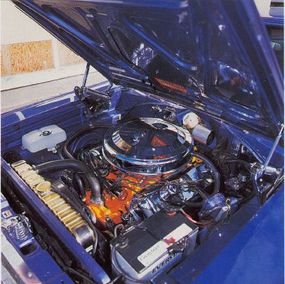 For minimum-hassle street work, the consensus choice was the 440. It was quicker than the Hemi up to about 60 mph, cheaper to buy, and easier to maintain. But for pitiless dominance, it was the Hemi.
"The 426 Hemi is unquestionably the king of the muscle cars, both for its speed and for its defiance," wrote Patrick Bedard for Car and Driver in 1990, putting this edition of Mopar's intermediates among his Ten Best all-time muscle cars. "The 'Street Hemi' was a class act, very smooth, quiet at idle, tractable in traffic." Open it up, however, and it revved like a Ferrari and ruled like, well, King Kong.
Return to Classic Muscle Cars Library.
Dodge muscle cars were among the fastest and wildest. See profiles, photos, and specifications of Dodge muscle cars.
Muscle cars came in many shapes and sizes. Here are features on more than 100 muscle cars, including photos and specifications for each model.
Muscle cars created their own culture. To learn about it, read How Muscle Cars Work.
These muscle car profiles include photos and specifications for each model:
For related car information, go to these articles:
The engine is what gives a muscle car its flamboyant personality. To learn everything you need to know about car engines, see How Car Engines Work.
Muscle cars wouldn't have much muscle without horsepower -- but what exactly is horsepower? How Horsepower Works answers that question.
NASCAR race cars embody the muscle car philosophy of power. Read How NASCAR Race Cars Work to find out what makes these charged-up racers go.

Are you thinking of buying a 2007 muscle car, or any other car? See Consumer Guide Automotive's New-Car Reviews, Prices, and Information.