If Ford had trouble winning respect on the streets in the mid '60s, Mercury had it worse. It was ignored. All the better, then, when the 1967 Mercury Comet 427 showed up. Talk about a sleeper of a muscle car.
It took until '66 for the Comet to graduate from the Ford Falcon-based compact platform to the Fairlane's midsize chassis. Cyclone versions were available with Ford's corporate 335-bhp 390-cid V-8, but being even heavier than the Fairlane GT, they were stones.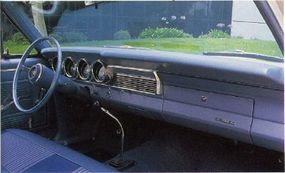 A few dozen '66 Fairlanes had been fitted with the no-excuses 427, but it wasn't until '67 that the engine became a regular-production option and was extended to the Comet line. Mercury made it available in any two-door Comet -- the Cyclone, Caliente, and Capri hardtops, and the bottom-of-the-line Comet 202 pillared coupe. The last was an interesting subject. It was a half-foot shorter than the hardtops and 100 pounds lighter. It was dumpier looking, too, with its Falcon-like roofline. Picture one with vanilla paint. Bench seats. Dog-dish hubcaps. No scoops. No stripes. Just a discreet "427" fender emblem. The perfect Q-ship.
As in the '67 Fairlane (where it was called the "Cobra 427"), the 427-cid V-8 was offered in two flavors. With a 780-cfm Holley four-barrel and 410 bhp, Mercury called it the "Cyclone 427." With dual 652-cfm Holley quads and 425 bhp, it was the "Super Cyclone 427." Both had 11.1:1 compression, solid lifters, and came only with a four-speed.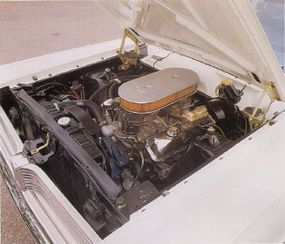 Just 200 or so '67 Fairlanes were ordered with the 427, and even fewer Comets. With the Super Cyclone powertrain, plus well-considered extras such as a tach ($47), wide-oval whitewall nylon tires ($83), and power front disc brakes ($84), a Comet 202 would have retailed for around $3,200. Hottest big-block, lightest body, no frills -- not even a radio: This was the muscle car distilled to its essence.
Return to Classic Muscle Cars Library.
The phrase Mercury muscle cars was no contradiction in terms; even this staid marquee had a quick-car lineup. See profiles, photos, and specifications of Mercury muscle cars.
Muscle cars came in many shapes and sizes. Here are features on more than 100 muscle cars, including photos and specifications for each model.
Muscle cars created their own culture. To learn about it, read How Muscle Cars Work.
These muscle car profiles include photos and specifications for each model:
The engine is what gives a muscle car its flamboyant personality. To learn everything you need to know about car engines, see How Car Engines Work.
Muscle cars wouldn't have much muscle without horsepower -- but what exactly is horsepower? How Horsepower Works answers that question.
NASCAR race cars embody the muscle car philosophy of power. Read How NASCAR Race Cars Work to find out what makes these charged-up racers go.

Are you thinking of buying a 2007 muscle car, or any other car? See Consumer Guide Automotive's New-Car Reviews, Prices, and Information.