Olds called its 1967 sporty cars the "Youngmobiles" and advertised them accordingly. Tires were "boots," styling was "with it," and the Oldsmobile Cutlass 4-4-2 W-30 was "the sweetest, neatest, completest anti-boredom bundle on rubber!" One ad touted the 4-4-2 as "Keeper of the Cool." That was quite accurate in the case of muscle cars with the W-30 performance package.
Olds quietly shipped 54 of the setups in '66 but gave the W-30 Force-Air-Induction System more play for '67. Of 24,829 4-4-2s built that year, about 500 got the $300 option. The original W-30 application was for the 360-bhp tri-carb engine, but GM restricted multicarb outfits to the Corvette in '67. All 4-4-2s now had the four-barrel 400-cid V-8, which retained its 350-bhp rating even in W-30 form -- though power and torque peaked 400 rpm higher in W-30s.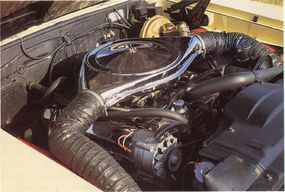 The W-30 induction system was more efficient than scoops that simply captured air running over the hood. It drew cold air from unobtrusive inlets above and below the parking lights and then ran it through two five-inch flexible tubes to a specially stamped air cleaner. Location of the inlets and arrangement of the ducting created a pressurizing effect.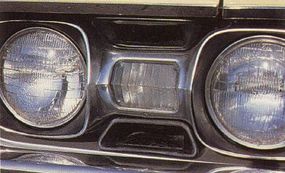 To make room for the tubes, the battery was relocated to the trunk, which also helped weight distribution. W-30 engines weren't ignored, gaining a hotter cam, stronger valve springs, and higher oil pressure.
Newly optional front disc brakes enhanced road manners that already were tops in the muscle-car field. Car and Driver flat called it "the best handling car of its type we've ever tested."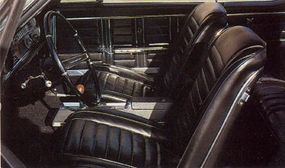 The optional two-speed automatic transmission was replaced by a more-responsive Hydra-matic three-speed tuned for high-rpm upshifts, cars with the optional 3.42:1 and 3.91:1 gears got a new, high-capacity rear axle, and durability of the optional Anti-Spin diff was improved.
As for the W-30 package, the name may have been merely an order code, but it soon became slang for the ultimate 4-4-2.
Return to Classic Muscle Cars Library.
For more cool information on muscle cars, see:
No muscle cars were more stylish, sophisticated, or brawnier than those from Oldsmobile. See profiles, photos, and specifications of Oldsmobile muscle cars.

Muscle cars came in many shapes and sizes. Here are features on more than 100 muscle cars, including photos and specifications for each model.
Muscle cars created their own culture. To learn about it, read How Muscle Cars Work.
These muscle car profiles include photos and specifications for each model:
For related car information, go to these articles:
The engine is what gives a muscle car its flamboyant personality. To learn everything you need to know about car engines, see How Car Engines Work.
Muscle cars wouldn't have much muscle without horsepower -- but what exactly is horsepower? How Horsepower Works answers that question.
NASCAR race cars embody the muscle car philosophy of power. Read How NASCAR Race Cars Work to find out what makes these charged-up racers go.

Are you thinking of buying a 2007 muscle car, or any other car? See Consumer Guide Automotive's New-Car Reviews, Prices, and Information.