GM's midsize lineup got new bodies, and two-door models got a shorter 112-inch wheelbase for 1968. That meant big styling changes for the muscle car contingent, including the 1968 Buick GS 400.
Buick gave its entry the long-hood, short-deck look that defined performance, but the aft flanks now looked quite massive. In fact, the new GS 400 weighed slightly more than the old, despite losing three inches of wheelbase and 4.4 inches of overall length.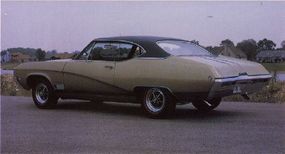 That meant little change in acceleration, since powertrain choices were unaltered. And the trimmer size didn't seem to translate into stellar road manners; some testers said it plowed through turns worse than the '67 model. Finally, the dashboard retained an unsporting horizontal-sweep speedometer flanked by idiot lights.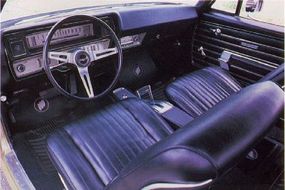 But what do the critics know? The public liked the new GS 400, and sales held steady despite more and stronger rivals from within GM and without. To Buick's credit, it kept price increases modest, assembly quality high, and its upscale image intact.
"Priced and powered in line with its competition...the GS 400 is the most luxurious of the lot, yet takes a back seat to none in performance," maintained Car Life magazine.
Offered as a hardtop coupe and convertible, the GS 400 benefited from a standard 400-cid four-barrel that delivered strong seat-of-the-pants performance without the peakiness and fussiness of most high-output engines. Transmission alternatives to the standard three-speed were a four-speed manual or three-speed automatic. Positraction, front disc brakes, and power steering were options.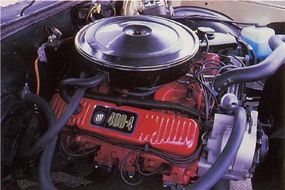 To those who wanted more, Buick offered a dealer-installed package that imbued the engine with a hotter cam, 11.0:1 compression, and stronger valve springs, and gave the transmission high-upshift modifications. Despite a 345-bhp rating, it added an estimated 50 bhp to the base 340-bhp mill and cut quarter-mile times by a second or more. The name of this rare dealer-installed option was a portent of great things to come from Buick. It was called the "Stage 1 Special Package."
Return to Classic Muscle Cars Library.
Buick, GM's "gentleman's car" division, was an unlikely source of some of the finest muscle cars. See profiles, photos, and specifications of Buick muscle cars.
Muscle cars came in many shapes and sizes. Here are features on more than 100 muscle cars, including photos and specifications for each model.
Muscle cars created their own culture. To learn about it, read How Muscle Cars Work.
These muscle car profiles include photos and specifications for each model:
For related car information, go to these articles:
The engine is what gives a muscle car its flamboyant personality. To learn everything you need to know about car engines, see How Car Engines Work.
Muscle cars wouldn't have much muscle without horsepower -- but what exactly is horsepower? How Horsepower Works answers that question.
NASCAR race cars embody the muscle car philosophy of power. Read How NASCAR Race Cars Work to find out what makes these charged-up racers go.

Are you thinking of buying a 2007 muscle car, or any other car? See Consumer Guide Automotive's New-Car Reviews, Prices, and Information.