The 1968 Chevrolet Chevelle SS 396 was as close to an Everyman's muscle car as Detroit would ever get. Reliable and affordable, the three-year design cycle kicked off by the '68 version would outsold every other true high-performance machine of the day, and beat its share, to boot.
Two-door GM intermediates lost three inches of wheelbase and gained shapely new styling for '68. Chevy's midsize muscle mainstay returned with 396-cid V-8 power, heavy-duty suspension, and F70X14 wide-ovals for a list price of just $2,875. The interior was revamped, but bucket seats were a $111 option. Power front disc brakes ($100), Positraction ($42), and accent stripes ($30) were popular extras.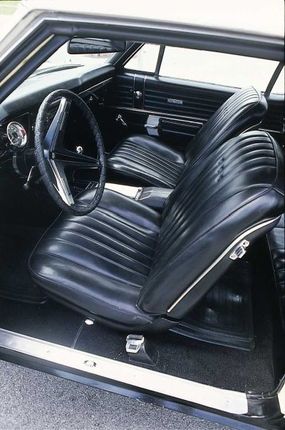 The base Turbo-Jet 396 again had 325 bhp, with $105 more buying the 350-bhp L34 version. Returning to the official options list for the first time since late 1966 was the lusty 375-bhp L78. It had solid lifters, big-port heads, and an 800-cfm Holley four-barrel on a low-rise aluminum manifold -- all for a reasonable $237. A three-speed manual was standard with all engines, and a four-speed or automatic were optional. Axle ratios began with 2.73:1 highway gearing and ended with dealer-installed 4.88:1 drag cogs.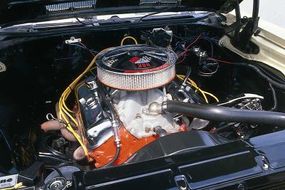 Chevy still didn't seem to have the SS 396's suspension sorted out: It rode harshly yet allowed the nose to porpoise over bumps. And the Muncie four-speed didn't shift with near the smoothness of the Hurst linkages offered as original equipment on some competitors.
But with the L78 in its holster, an SS 396 was a match for most anything coming out of rival showrooms. It idled roughly but revved ferociously. Remembered Patrick Bedard in a 1990 Car and Driver retrospective of top muscle cars: "If you came up beside an SS 396 in those days, you listened carefully. If you heard sixteen little hammers, the racket of solid lifters, you knew the guy was dangerous."
Chevy built 62,785 SS 396 Chevelles for '68. A fraction were ordered with the L78, but that engine wasn't for every man.
Return to Classic Muscle Cars Library.
Chevy muscle cars beat at the heart of big-cube high performance. See profiles, photos, and specifications of Chevy muscle cars.
Muscle cars came in many shapes and sizes. Here are features on more than 100 muscle cars, including photos and specifications for each model.
Muscle cars created their own culture. To learn about it, read How Muscle Cars Work.
These muscle car profiles include photos and specifications for each model:
For related car information, go to these articles:
The engine is what gives a muscle car its flamboyant personality. To learn everything you need to know about car engines, see How Car Engines Work.
Muscle cars wouldn't have much muscle without horsepower -- but what exactly is horsepower? How Horsepower Works answers that question.
NASCAR race cars embody the muscle car philosophy of power. Read How NASCAR Race Cars Work to find out what makes these charged-up racers go.

Are you thinking of buying a 2007 muscle car, or any other car? See Consumer Guide Automotive's New-Car Reviews, Prices, and Information.