The ultimate street-racer's fantasy is to show up in a ratty-looking sleeper and blow the doors off one hoity-toity muscle car after another. A Dodge Dart GTS 440 made that a reality for at least one bold fellow. You could look it up.
With its standard 340-cid V-8, the '68 Dart GTS was a worthy member of Dodge's new performance-car group, the Scat Pack. Underrated at 275 bhp, a GTS could turn mid-l4s at 99 mph. The optional 383 V-8 had 335 bhp, but weight disadvantages meant it wasn't much quicker than the nimbler 340.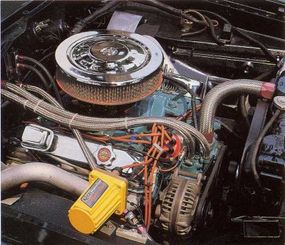 Of course, that didn't stop some Mopar freaks from stuffing in a 440-cid V-8. In all, about 650 '68 and '69 Darts were fitted with the big-block Magnum, which almost always was modified after the transplant to well beyond its 375-bhp factory rating. Conversion of a group of 48 '68 GTSs was typical.
Dodge shipped 383-spec Darts (minus powertrain) along with factory-prepped 440 engines to Hurst-Campbell, Inc., a Michigan aftermarket company. Hurst-Campbell did the conversion, Dodge reps inspected it, and the cars were forwarded to Grand Spaulding Auto Sales in Chicago, a performance-oriented Dodge dealer. These cars got vehicle identification numbers but were not covered by the factory warranty.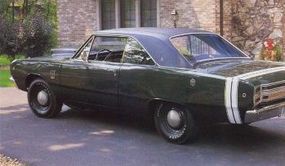 With even more weight in front and no power steering (it wouldn't fit), 440 Darts were good for little but all-out straight-line attacks. So irresistible was the setup that a thief stole Car and Driver's brand-new, bright blue 440 Dart test car from its New York parking space.
Documenting the heist in its October 1969 issue, the magazine said the Dart soon surfaced "at a local street racing highway and cleaned up. The car, camouflaged in light gray primer...had put down a brace of Corvettes that had gained some local renown."
The thief was eventually caught red-handed at New York National Speedway, where the Dart was embarrassing all rivals. Appropriately enough, it was running in the dragway's "Hot Car" class.
Return to Classic Muscle Cars Library.
Dodge muscle cars were among the fastest and wildest. See profiles, photos, and specifications of Dodge muscle cars.
Muscle cars came in many shapes and sizes. Here are features on more than 100 muscle cars, including photos and specifications for each model.
Muscle cars created their own culture. To learn about it, read How Muscle Cars Work.
These muscle car profiles include photos and specifications for each model:
For related car information, go to these articles:
The engine is what gives a muscle car its flamboyant personality. To learn everything you need to know about car engines, see How Car Engines Work.
Muscle cars wouldn't have much muscle without horsepower -- but what exactly is horsepower? How Horsepower Works answers that question.
NASCAR race cars embody the muscle car philosophy of power. Read How NASCAR Race Cars Work to find out what makes these charged-up racers go.

Are you thinking of buying a 2007 muscle car, or any other car? See Consumer Guide Automotive's New-Car Reviews, Prices, and Information.