Pontiac may have broken late from the gate in the pony-car derby, but it quickly made up ground. Carefully considered alterations made the 1968 Pontiac Firebird 400 perhaps the best compact muscle car of the year.
Styling was unchanged save for deletion of side vent windows and addition of federally-mandated fender marker lights. Beneath the skin, Pontiac engineers continued to refine the Camaro-spec suspension forced on them by GM. Performance versions of both makes got new multiple-leaf rear springs with shock absorbers staggered fore and aft of the axle, so axle tramp in hard takeoffs was diminished.
Pontiac went further to improve overall road manners with new options such as adjustable Koni shock absorbers ($42). Front disc brakes remained a $63 extra, but some 400s reportedly were equipped with new variable-assist power steering, which provided a quicker ratio yet firmer control at high speeds.
Horsepower on the standard 400-cid V-8 increased by five, to 330. Ram Air continued as the rarest and strongest engine option at about $600 over the regular 400. It again had a hotter cam, stronger valve springs, and exclusive use of functional hood scoops. At midyear, the 335-bhp Ram Air mill was replaced by the 340-bhp Ram Air II.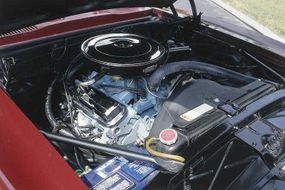 A third 400 engine variation bowed for '68 and was the best blend of machismo and manners. The 400 HO, or High Output, cost about $350 over the base 400 and used free-flow exhausts and, when hooked to a four-speed, its own revised cam. It too was rated at 335 bhp, but redlined higher than the base engine and below the Ram Air. All 400s used a single four-barrel carb and came with either a three- or four-speed manual or optional three-speed automatic. The four-speed was standard on Ram Air cars.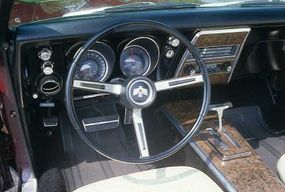 In a 1968 Car and Driver comparison test, a Firebird 400 HO bested a 390-cid Javelin, a 390 Mustang and 390 Cougar, a Camaro SS 396, and a 340 Barracuda. Not only was the Poncho quickest of the bunch, but its engine was the smoothest and its handling the friendliest.
"For sheer enjoyment and confidence behind the wheel," said Car and Driver, "the Firebird was almost in a class by itself."
Return to Classic Muscle Cars Library.
For more cool information on muscle cars, see:
Pontiac ignited the classic muscle car era with a stroke of marketing genus. See profiles, photos, and specifications of Pontiac muscle cars.

Muscle cars came in many shapes and sizes. Here are features on more than 100 muscle cars, including photos and specifications for each model.
Muscle cars created their own culture. To learn about it, read How Muscle Cars Work.