Its initials stood for King of the Road, and if the 1968 Shelby Cobra GT 500-KR looked like a more threatening muscle car than it really was, so be it.
Shelby's 1967 GT 500 had led Ford's pony car across the 400-cid threshold with a 427-cid detuned race engine and a juiced 428-cid Police Interceptor V-8. Both returned for '68. Then in April '68, Ford unveiled an even-hotter version of the 428, the Cobra Jet, and offered it in the Mustang, among other models.
At Shelby, the Cobra Jet replaced the original 428, and GT 500s gained a KR suffix, for King of the Road. (The 427 was dropped.) This was the year's second name change. Shelby's AC Cobra roadster died after '67, but he kept the name, rechristening his Mustangs the Shelby Cobra GT 500 and Shelby Cobra GT 350. (The GT 350 for '68 used Ford's new 302-cid V-8 and was rated at 250 bhp.)
The GT 500-KR's 428 had the same suspiciously low 335-bhp rating as other Cobra Jets, though some Shelby material put peak output at higher rpm. Shelby's version had diecast aluminum Cobra rocker covers but wore the same plain painted ram-air air cleaner.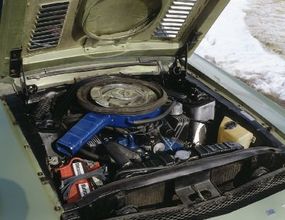 Plain did not describe the GT 500-KR. This was the first year for a Shelby convertible, and like the fastback, it dressed up the stock Mustang with its own fiberglass nose panels, fiberglass hood with working scoops and air-extraction vents, decorative bodyside intakes, and a spoilered tail with sequential turn signals. The fastback's roof scoops directed air to the cabin. A padded roll bar with attached inertia-reel shoulder harness, improved gauges, and woodgrain appliques marked the otherwise stock-Mustang interior.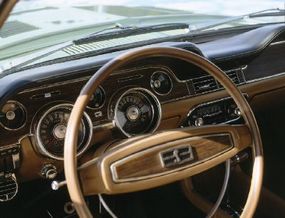 With its fat tires and suspension tweaks, the GT 500-KR out handled all but pure sports cars. But it weighed more than a Cobra Jet Mustang, and as a drag racer, it was no Hemi-hunter. To most street rivals, however, one look was all it took. "Oddly, the KR's vincibility doesn't matter," observed Car Life. "The car is so impressive, so intimidating to challengers, that there are no challengers. The KR breeds confidence bordering on arrogance."
Return to Classic Muscle Cars Library.
Some of the best all-around performance machines of the day were Ford muscle cars. See profiles, photos, and specifications of Ford muscle cars.
Muscle cars came in many shapes and sizes. Here are features on more than 100 muscle cars, including photos and specifications for each model.
Muscle cars created their own culture. To learn about it, read How Muscle Cars Work.
These muscle car profiles include photos and specifications for each model:
The engine is what gives a muscle car its flamboyant personality. To learn everything you need to know about car engines, see How Car Engines Work.
Muscle cars wouldn't have much muscle without horsepower -- but what exactly is horsepower? How Horsepower Works answers that question.
NASCAR race cars embody the muscle car philosophy of power. Read How NASCAR Race Cars Work to find out what makes these charged-up racers go.

Are you thinking of buying a 2007 muscle car, or any other car? See Consumer Guide Automotive's New-Car Reviews, Prices, and Information.