There was no special edition of the 1969 Buick GS 400. That contrasted with the goings on at GM's other divisions, each of which was maneuvering to increase its midsize muscle car profile. Chevy uncorked some special-order super Chevelles. Olds headlined Hurst editions of the 4-4-2. And Pontiac's big news was a pop-culture-inspired version of the GTO.
That didn't mean Buick was standing pat, however. In fact, the GS 400 got standard functional hood scoops for '69, something none of its higher-profile corporate siblings had. The "Cool Air" induction system used a twin-snorkel air cleaner with two foam muffs that sealed against the scoop openings. Buick said the system increased peak horsepower by eight percent and peak torque by six percent over the entire rpm range, though the car's base 400-cid V-8 retained the 340-bhp rating from '68.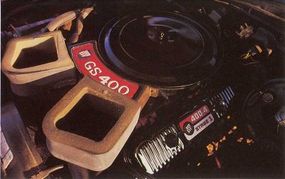 But now, the base engine wasn't the only GS 400 mill. New for '69 were Stage 1 and Stage 2 option packages. Stage 1 boosted output to 345 bhp. It had a high-lift cam, 11.0:1 compression instead of 10.25:1, a special carburetor and fuel pump, and larger low-restriction exhausts.
Positraction was included, and four-speed cars got 3.64:1 gears. The optional three-speed automatic was modified for higher shift points and used 3.42:1 cogs. The rare Stage 2 made up to 360 bhp with an even hotter cam and other assorted enhancements.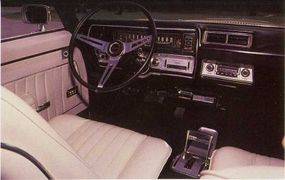 True to Buick's nature, the Stage 1 was energetic but untemperamental. Even the advertising line -- "Buick builds a premium performance machine" -- seemed high-toned.
"The Stage 1 engine feels like a good supercar compromise," Motor Trend concurred. "Power is all there for street running, especially when you put your foot in it and open all four barrels. Downshifting acceleration really puts you back in your seat. One distinct characteristic of the engine seems to be its smoother idle with a big cam. It's not nearly as rough as similar supercars with similar grind cams."
Return to Classic Muscle Cars Library.