On occasion, Detroit comes up with a one-year wonder that strikes a chord with its audience. Chevy's first facelift of its pony car was one of those chords, and the 1969 Chevrolet Camaro SS 396 provided the rockin' muscle car backbeat.
A deft revamp of the original 1967-68 body shell created unique styling used for just this season. Good thing the '69s were so interesting. As it turned out, they had to be carried into the '70 model year when production problems delayed introduction of the fully redesigned next-generation Camaro.
The most-popular enthusiast Camaro was again the Super Sport, which added about $300 to a coupe or convertible and included a 300-bhp 350-cid V-8, stiff suspension, and F70x14 tires. Power front disc brakes were now part of the package, as were the nonfunctional hood ports previously exclusive to SS 396s. An extra $79 landed the new cowl-induction hood with its functional rear-facing inlet. The hidden-headlamp Rally Sport option cost $132. The interior was updated, too, and a new $95 gauge pack put a round tach in the instrument pod and auxiliary dials on the center console.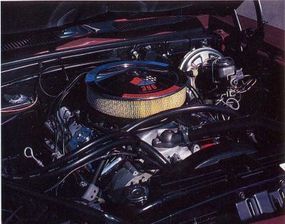 ©2007 Publications International, Ltd. Top version of the 396 was tagged L78 and rated at 375 bhp. It had solid lifters,big-port heads, and an 800-cfm Holly on a low-rise aluminum manifold.
Except for rare 427-cid specials, big-cube Camaro muscle was best expressed in the SS 396. The respected engine was back in three basic states of tune: 325 and 350 bhp, and the 375-bhp L78, which cost $316. For $711, Chevy would fit an L78 with aluminum heads. It called these L89s and rated them at 375 bhp; 311 went into Camaros.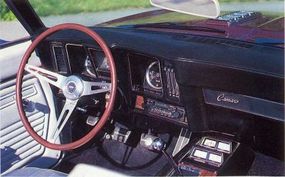 ©2007 Publications International, Ltd. The optional Special Interior Group included a simulated woodgrainsteering wheel and a Sports console with exta gauges.
Chevy worked to improve the behavior of the big-block Camaro's rear suspension. But the 396 had so much torque and put so many pounds over the nose -- 59.3 percent of an SS 396's weight was on the front axle -- that the lightly loaded rear axle struggled to get the power down in hole shots. "At the mere suggestion of work, the axle leaps and hops, judders and bucks..." said Road Test. "The rear suspension is (the) weak linkage between axle and car, and it drags the 396 Camaro down to the level of just another Camaro."
Savvy street racers attacked the problem with aftermarket traction kits, which cut ETs significantly. And as time would prove, no '69 was "just another Camaro."
Return to Classic Muscle Cars Library.
For more cool information on muscle cars, check out:
Chevy muscle cars beat at the heart of big-cube high performance. See profiles, photos, and specifications of Chevy muscle cars.
Muscle cars came in many shapes and sizes. Here are features on more than 100 muscle cars, including photos and specifications for each model.
Muscle cars created their own culture. To learn about it, read How Muscle Cars Work.
Check out these profiles of muscle cars, which include photos and specifications for each model:
For related car information, see these articles:
The engine is what gives a muscle car its flamboyant personality. To learn everything you need to know about car engines, see How Car Engines Work.
Muscle cars wouldn't have much muscle without horsepower -- but what exactly is horsepower? How Horsepower Works answers that question.
NASCAR race cars embody the muscle car philosophy of power. Read How NASCAR Race Cars Work to find out what makes these charged-up racers go.

Are you thinking of buying a 2007 muscle car, or any other car? See Consumer Guide Automotive's New-Car Reviews, Prices, and Information.