The 1969 Pontiac GTO Judge was evidence that muscle cars could reflect the cultural currents of their time.
In most circumstances, a judge commands respect. But society in the 1960s grew increasingly irreverent toward establishment figures, and "Here comes da judge!" quickly went from a sardonic catch phrase on TV's Laugh-In to a staple of the American lexicon.
In naming the newest GTO incarnation "The Judge," Pontiac seemed to be saying: "This car has authority, but like the Road Runner and its ilk, it doesn't take itself too seriously." Abundantly powerful V-8s secured the first part of the message; op-art graphics and bright primary colors brought home the second.
As originally conceived, The Judge was to be an econo-muscle Goat, maybe a pillared coupe in a single color, with rubber floor mats and only the hottest performance equipment. The Judge that debuted in December 1968 wasn't so severe, being instead a $332 option package for the GTO hardtop or convertible. But it included a host of features that cost far more when ordered individually.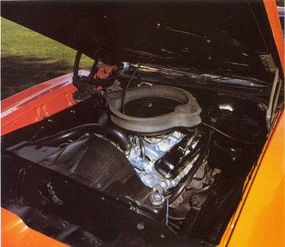 Standard was the 366-bhp Ram Air III evolution of the GTO's 400-cid V-8; an underdash knob now closed its hood scoops in wet weather. Pontiac trimmed a few bucks from the base price by fitting a three-speed manual with Hurst T-handle shifter (and by deleting trim rings from the standard Rally II wheels), but all Judges had the regular firm GTO suspension and wide-tread Polyglas G70x14s.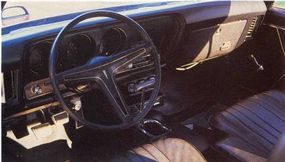 Another $390 landed the new Ram Air IV with its radical cam and underrated 370 bhp. Restless at idle, weak below 3000 rpm, this edition of the 400 was a pain to drive on the street and a task to launch at the strip, but it was a weapon in the hands of a skilled driver. A close-ratio four-speed ($195) or automatic ($227), Posi ($63), front discs ($64), power steering ($100), and hood-mounted tach ($63) filled out the well-appointed Judge.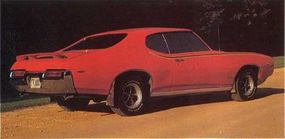 No somber black robes for this jurist, however. A rear-deck spoiler, blackout grille, and Judge decals
decorated the body, though the cabin was standard GTO except for judge badges. To kill any budget-muscle pretense, every regular GTO option was available, including hidden headlamps. The Judge performed no differently than similarly equipped Goats. It just did it with less reverence.
Return to Classic Muscle Cars Library.