The 1969 Yenko Chevrolet Camaro 427 was the delicious conversion of muscle car need and a factory's desire to please.
To Ford fans, Carroll Shelby is the high-priest of performance. Chevy loyalists revere a Canonsburg, Pennsylvania, car dealer named Don Yenko. Yenko had a deserved reputation for driving, building, and selling dominating Chevrolets, starting in '65 with well-crafted super Corvairs. He advanced to installing 427-cid Corvette V-8s in '67 and '68 Camaros, performing 118 of the transplants. These $4,200 ponys ran in the low 13s right off his shop floor.
Other Chevy retailers, notably Nickey in Chicago, Dana in California, and Baldwin-Motion in New York, undertook similar transplants. But Yenko Sports Cars Inc. had dealer outlets for its cars in 19 states, and that earned clout with Chevrolet. Dealer conversions were complicated, however, and came with only a limited engine warranty.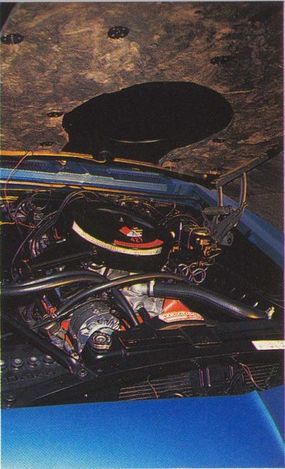 ©2007 Publications International, Ltd. The biggest engine available in mainline 1969 Camaros was Chevy's 375-bhp 396-cid V-8. Yenkos, however, were fitted with the Corvette 427. It was rated at 425 bhp, but Yenko pegged it at a more realistic 450.
So at Yenko's urging, Chevy agreed to factory-build a batch of 1969 Camaros with 427 engines, and to provide full 5-year/50,000-mile warranties. This was done under the Central Office Production Order system, which had previously been used to satisfy special requests from non-performance fleet buyers.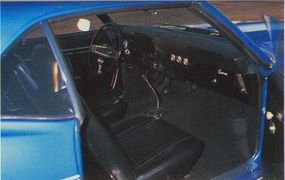 ©2007 Publications International, Ltd. Yenko interiors featured extra gauges, including a Stewart Warner tach.
How many COPO Camaros were built isn't known; Yenko ordered 201, but other dealers could order them as well, and 500 or more were produced. All were basically the same: They had the iron-block and head, solid-lifter L72 427, which Chevy pegged at 425 bhp but which Yenko rated a more-realistic 450; Hurst four-speed manual or dual-gate automatic; heavy-duty 4.10:1 Posi; cowl-induction hood; heavy-duty Z28 suspension with F70xl4 tires; and other go-fast goodies. The package added about $800 to a base coupe, including $490 for the engine.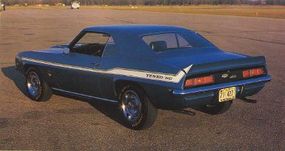 ©2007 Publications International, Ltd. Chevy delivered the Camaros with no special markings, but Yenko added striping and "Yenko Super Car" insignia to the ones he sold.
Chevy delivered the standard COPO Camaros with dog-dish hubcaps and no exterior badging; not even the engine was identified as a 427. Yenko ordered his with 15-inch rally wheels, bigger front roll bar, and 140 mph-speedometer, then dressed them with "sYc" (Yenko Super Car) insignia and striping, and made available mags, gauges, headers, and other items that could push the price past $4,600. As delivered, Yenko Camaros turned effortless mid-13s. Most were fitted with headers and slicks, even for street work, and in this form recorded 11.94-secomd ETs at 114 mph.
Return to Classic Muscle Cars Library.
For more cool information on muscle cars, check out:
Chevy muscle cars beat at the heart of big-cube high performance. See profiles, photos, and specifications of Chevy muscle cars.
Muscle cars came in many shapes and sizes. Here are features on more than 100 muscle cars, including photos and specifications for each model.
Muscle cars created their own culture. To learn about it, read How Muscle Cars Work.
Check out these profiles of muscle cars, which include photos and specifications for each model:
For related car information, see these articles:
The engine is what gives a muscle car its flamboyant personality. To learn everything you need to know about car engines, see How Car Engines Work.
Muscle cars wouldn't have much muscle without horsepower -- but what exactly is horsepower? How Horsepower Works answers that question.
NASCAR race cars embody the muscle car philosophy of power. Read How NASCAR Race Cars Work to find out what makes these charged-up racers go.