At the opposite end of the COPO spectrum from the striped and badged Chevelles marketed by Don Yenko were those delivered just as Chevy built them. This muscle car -- the 1969 Chevrolet Chevelle COPO 427 -- spoke softly but carried a very big stick.
All COPO Chevelles were cut from the same basic cloth. Their reason for being was GM's ban on engines over 400 cid in midsize cars. Hot-bloods within Chevy itched to circumvent the rule. And with a handful of muscle-hungry dealers egging them on, Vince Piggins, Chevy's performance-products manager, found a way. He used the Central Office Production Order system, which normally filled special-equipment fleet orders, to factory-equip a run of Chevelles with L72 427-cid V-8s.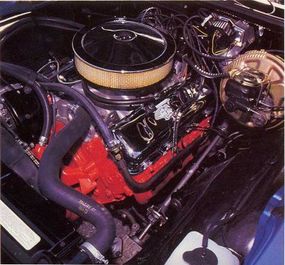 As in the COPO Camaro, the solid-lifter iron-block-and-head L72 used an aluminum manifold and an 800-cfm Holley four-barrel. Chevy rated it at 425 hp, but in calculating the car's stock drag class, the NHRA claimed a truer 450 hp. Chevelle's strongest regular four-speed or the Rock Crusher manual were offered, as was a fortified Turbo Hydra-matic. The strengthened 12-bolt Positraction axle had 4.10:1 cogs and the suspension was heavy-duty. Front discs -- standard on Super Sport Chevelles -- were a mandatory $64 option on COPO cars.
In fact, none of the 323 COPO Chevelles built were Super Sports. Instead, they were base coupes with a COPO option package that cost about $860, including $533 for the L72. Yenko put his trademark dress-ups on the 99 he ordered. But the balance that went to other dealers for individual sale looked deceptively docile.
From the SS they borrowed a black grille and tail panel, hood bulges, side stripes, and chrome exhaust tips. However, there was no performance ID on the body. The emblem-free L72 could pass for an aluminum-manifold 396. And the cabin was plain Malibu, though a few SS steering wheels were fitted. Even the standard rally wheels were similar to those on the base Malibu though they were in reality 15-inch units.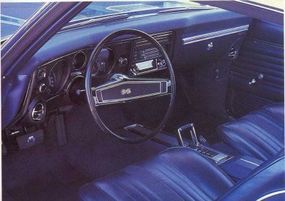 The cid-ceiling would be lifted for '70, so COPO Chevelles were built for 1969 only. But these were among the most feared muscle cars of any day. And they didn't need any badges.
Return to Classic Muscle Cars Library.
For more cool information on muscle cars, see:
Chevy muscle cars beat at the heart of big-cube high performance. See profiles, photos, and specifications of Chevy muscle cars.
Muscle cars came in many shapes and sizes. Here are features on more than 100 muscle cars, including photos and specifications for each model.
Muscle cars created their own culture. To learn about it, read How Muscle Cars Work.