Although the 1969 Chevrolet Chevelle SS 396 was a muscle car for the common man, set up the right way, its performance was distinctly uncommon.
After a year as a separate model, the SS 396 was made a $348 option package for '69. That widened its availability from the Malibu sport coupe and convertible, to the Chevelle 300-series hardtop and pillared coupe (it also was offered on the open-bed El Camino). All Chevelles got minor styling changes, including new taillamps. SS 396s looked cleaner than ever. The power-bulge hood was still just for show, but more-prominent "SS 396" badging inside and out and standard five-spoke mag wheels burnished the image.
Decidedly not for show was the L78 version of the 396-cid V-8. Costing $253 more than the base 325-bhp 396 and $132 over the 350-bhp L34, the solid-lifter L78 was again rated at 375 bhp, but its punch down low and big lungs at high rpm made it feel stronger.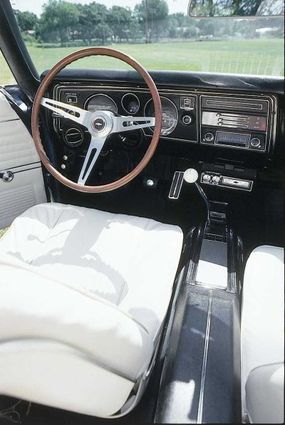 ©2007 Publications International, Ltd. This '69 Chevelle SS 396 dresses up with a custom-look steering wheel.
Car and Driver's Patrick Bedard sang the L78's praises in his 1990 "warrior's list" of muscle cars: "There was no single genius part, no hemi head or tunnel port that you could point to and say, 'Yep, that's what makes this the baddest motor in town.' All the pieces just worked together as if they were on commission."
Muscle was entering its heyday and Chevy not only sold a record 86,307 SS 396s in '69, but more than 9,000, an all-time high, were ordered with the L78. An estimated 400 buyers shelled out an additional $395 for the L89 option, which fit the L78 with weight-saving aluminum heads.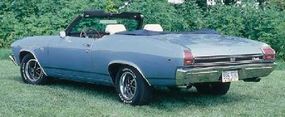 ©2007 Publications International, Ltd. Late in the '69 model year, Chevy's 396-cid V-8 was enlargedto 402 cid, but the automaker retained the "396" title and badgingto capitalize on their name recognition.
The three-speed Turbo Hydra-matic was now the only automatic available on an SS 396, and was the first strong enough to handle the L78. The L78 was also the only mill offered with the infamous Rock Crusher four-speed. The SS 396 now included power front discs, with the F41 suspension and free-flow chambered exhausts among new options.
Continued traction problems and a sloppy four-speed linkage gave box-stock examples deceptively modest ETs. Some comfort was gained in the knowledge that few muscle cars responded as well to simple modifications, showing that common doesn't always mean average.
Return to Classic Muscle Cars Library.
For more cool information on muscle cars, check out:
Chevy muscle cars beat at the heart of big-cube high performance. See profiles, photos, and specifications of Chevy muscle cars.
Muscle cars came in many shapes and sizes. Here are features on more than 100 muscle cars, including photos and specifications for each model.
Muscle cars created their own culture. To learn about it, read How Muscle Cars Work.
These muscle car profiles include photos and specifications for each model:
For related car information, see these articles:
The engine is what gives a muscle car its flamboyant personality. To learn everything you need to know about car engines, see How Car Engines Work.
Muscle cars wouldn't have much muscle without horsepower -- but what exactly is horsepower? How Horsepower Works answers that question.
NASCAR race cars embody the muscle car philosophy of power. Read How NASCAR Race Cars Work to find out what makes these charged-up racers go.

Are you thinking of buying a 2007 muscle car, or any other car? See Consumer Guide Automotive's New-Car Reviews, Prices, and Information.