If Dodge had a muscle car to rival the energetic small-block Chevy, it was the Dart with the eager, free-revving 340-cid V-8. Underrated at 275-bhp, a 340 Dart could crack off easy mid-14-second ETs, to the embarrassment of many a big-block supercar. But this was the '60s. Balance and finesse were not the order of the day. If the 340 was good, a 383-cid Dart would be even better. Right? Not necessarily, as evidenced by the 1969 Dodge Dart GTS.
Dart had been redesigned for '67, and the two-door hardtop enjoyed pleasing, if undramatic, proportions. The 340 and 383 came on board for '68. The 340 was standard in the showcase GTSport trim level, which included bumblebee tail stripes to mark its membership in the new Dodge Scat Pack collection of performance cars.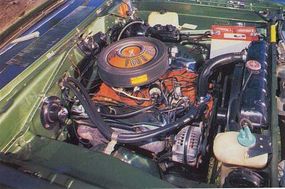 Optional in the GTS was the 383 four-barrel. It was rated at a realistic 300 bhp. The 340, however, actually produced 300 bhp or more, and weighed 90 pounds less than the 383. Where the GTS's heavy-duty suspension was a fine match for the 340, allowing power to flow smoothly to the pavement, the 383 upset this balance. Traction off the line was poor, and ETs were no quicker.
For '69, the 383 got the full Road Runner/Super Bee treatment and horsepower climbed to 330. As in '68, Dodge made some changes to the GTS's suspension when the 383 was ordered, increasing the diameter of the front torsion bars and front sway bar. But the same heavy-duty six-leaf rear springs and E70xl4 tires were retained. Transmissions were shared, as well: either a heavy-duty four-speed or high-upshift TorqueFlite, both with 3.23:1 gears standard and 3.55:1 or 391:1 available with the optional Sure Grip diff.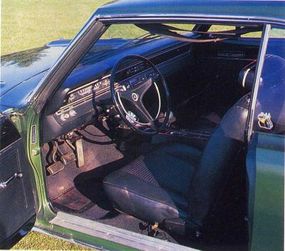 A sensitive foot on the gas pedal still was required to get a 383 Dart off the line without wasting precious seconds simply smoking the tires. But once hooked up, the '69 car's extra power seemed finally to make this marriage work. It still wasn't the best all-around engine in this application, but what would the '60s have been without a little excess?
Return to Classic Muscle Cars Library.