Chrysler engineers used some good-old hot-rodding to create one of the muscle car era's most intoxicating machines: The 1969 Dodge Super Bee Six Pack.
They took Mopar's fine 375-bhp 440-cid Magnum V-8 and treated it to the time-honored hop-up of more carburetion, replacing the single Carter quad with three Holley two-barrels on an Edelbrock Hi-Riser manifold. Normal driving ran the engine on the center carb; punching it opened the two outboard Holleys and delivered an astounding 1375-cfm charge. Hemi valve springs, a hotter cam, magnafluxed connecting rods, and other fortifications helped boost output to 390 bhp.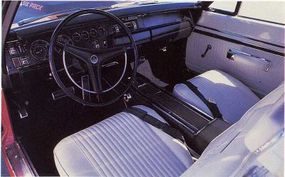 A Hurst-shifted four-speed and a 9 3/4-inch Dana Sure-Grip diff with 4.10:1 gears were standard. TorqueFlite was optional, but disc brakes, air conditioning, and cruise control were not allowed.
Dodge's home for the new mill was the econo-muscle Coronet Super Bee, which again came with a 383-cid V-8 or the 426 Hemi. In honor of the tri-carb setup, the newcomer was called the Super Bee Six Pack, a name broadcast on the sides of one of the wilder hoods in muscledom. Its scoop lacked a filter or valve to keep out foreign elements -- though it did have rain drain tubes. With its matte-black finish and NASCAR tie-down pins, the fiberglass lift-off hood said this car meant business, a message reinforced by standard steel wheels unadorned except for chrome lug nuts. (The engine and hood also were offered in the '69 Plymouth Road Runner as the "440+6".)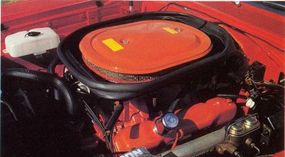 Dodge's 440 Six Pack cost $463, about $500 less than a Hemi. No Mopar mill was as all-out fast as the Hemi. But the 440 could hang with one until 70 mph or so, and the deep-breathing Six Pack added a near-Hemi high end. "The result was a torque motor that would rev, too, a fearsome street cleaner," wrote Car and Driver's Patrick Bedard in his 1990 muscle retrospective.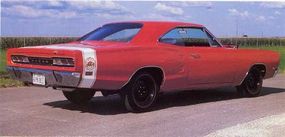 With their Hemi-grade suspension, Six Pack Super Bees were surprisingly good handlers. That outrageous hood did bait cops, and made every oil check a two-person job. So what? Considering its price and performance, this Six Pack was a small-deposit, high-return steal.
Return to Classic Muscle Cars Library.