Ford jumped on the budget-muscle car bandwagon with the 1969 Ford Fairlane Cobra 428. This midsize model was a little out of character for the brand: It performed. The subject was a dressed-down Fairlane hardtop or SportsRoof fastback with the grille blacked out and minimal exterior ornamentation; about the only clue to the car's true nature were small Cobra snake emblems and "428" badges.
They signified the 428-cid Cobra Jet V-8, which was standard. The $3,200 base price also included a four-speed manual, with automatic a mere $37 option. Estimates put the Cobra Jet's true output at around 400 bhp, though Ford rated it at 335. The optional Ram Air induction system cost $133 and used a functional hood scoop to feed an air-cleaner breather valve that opened under heavy throttle. These CJ-R engines retained the 335-bhp rating, but were stronger than the standard mill, and turned high-13s at 102 mph.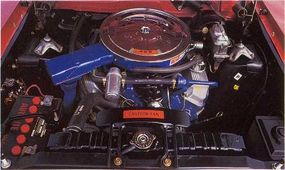 ©2007 Publications International, Ltd. The 428-cubic-inch V-8 was rated at 335 horsepower, but it probably achieved closer to 400.
Like the '68 econo-racer Mopars that launched the segment, Cobra stuck to basics. A "competition" suspension with staggered rear shocks, F70x14 tires, and hood-lock pins were standard. Power steering ($100) and power front discs ($65) were extras. Limited slip was a $63 option, but available ratios included 4.30:1 gears in a bulletproof Detroit Locker, which required an engine oil cooler. Interior was bench-seat plain; bucket seats with console added $169, an 8000-rpm tach, $48.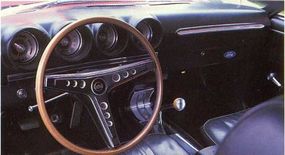 ©2007 Publications International, Ltd. The 1969 Ford Fairlane Cobra was as plain inside as outside. Bucket seats and power steering were among several options that cost extra.
Like the mainstream intermediate on which it was based, the Cobra had a benign feel on the road, with predictable handling and numb power steering. But unlike most Fords, it flew.
"The 428 had...a lethargic way about it: it wasn't zingy like a Chevy," recalled Patrick Bedard for a 1990 Car and Driver retrospective. "But it had earth-mover torque, and it stayed in tune -- exactly what street racers needed. It was good with an automatic, too: just punch it and hang on. Which meant that every CJ was a threat no matter what kind of yahoo was in the chair."
Return to Classic Muscle Cars Library.
For more cool information on muscle cars, go to:
Some of the best all-around performance machines of the day were Ford muscle cars. See profiles, photos, and specifications of more Ford muscle cars.
Muscle cars came in many shapes and sizes. Here are features on more than 100 muscle cars, including photos and specifications for each model.
Muscle cars created their own culture. To learn about it, read How Muscle Cars Work.
Check out these profiles of muscle cars, which include photos and specifications for each model:
For related car information, see these articles:
The engine is what gives a muscle car its flamboyant personality. To learn everything you need to know about car engines, see How Car Engines Work.
Muscle cars wouldn't have much muscle without horsepower -- but what exactly is horsepower? How Horsepower Works answers that question.
NASCAR race cars embody the muscle car philosophy of power. Read How NASCAR Race Cars Work to find out what makes these charged-up racers go.

Are you thinking of buying a 2007 muscle car, or any other car? See Consumer Guide Automotive's New-Car Reviews, Prices, and Information.