Ford jumped on the budget-muscle car bandwagon with the 1969 Ford Fairlane Cobra 428. This midsize model was a little out of character for the brand: It performed. The subject was a dressed-down Fairlane hardtop or SportsRoof fastback with the grille blacked out and minimal exterior ornamentation; about the only clue to the car's true nature were small Cobra snake emblems and "428" badges.
They signified the 428-cid Cobra Jet V-8, which was standard. The $3,200 base price also included a four-speed manual, with automatic a mere $37 option. Estimates put the Cobra Jet's true output at around 400 bhp, though Ford rated it at 335. The optional Ram Air induction system cost $133 and used a functional hood scoop to feed an air-cleaner breather valve that opened under heavy throttle. These CJ-R engines retained the 335-bhp rating, but were stronger than the standard mill, and turned high-13s at 102 mph.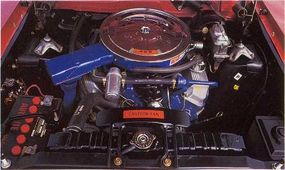 Like the '68 econo-racer Mopars that launched the segment, Cobra stuck to basics. A "competition" suspension with staggered rear shocks, F70x14 tires, and hood-lock pins were standard. Power steering ($100) and power front discs ($65) were extras. Limited slip was a $63 option, but available ratios included 4.30:1 gears in a bulletproof Detroit Locker, which required an engine oil cooler. Interior was bench-seat plain; bucket seats with console added $169, an 8000-rpm tach, $48.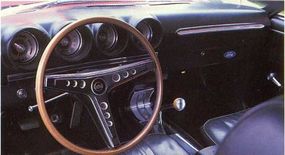 Like the mainstream intermediate on which it was based, the Cobra had a benign feel on the road, with predictable handling and numb power steering. But unlike most Fords, it flew.
"The 428 had...a lethargic way about it: it wasn't zingy like a Chevy," recalled Patrick Bedard for a 1990 Car and Driver retrospective. "But it had earth-mover torque, and it stayed in tune -- exactly what street racers needed. It was good with an automatic, too: just punch it and hang on. Which meant that every CJ was a threat no matter what kind of yahoo was in the chair."
Return to Classic Muscle Cars Library.